Editorial Design
Probability Events of Rain
2023
"Probability Events of Rain" is a design inventory book that draws from my design practices and research essays spanning the past two years. It presents an experimental design methodology that explores the convergence of materials, mediums, and culture.

The book features an exposed spine binding technique, utilizing slashes to symbolize raindrops. The deliberate separation of images and texts into distinct sections is intended to create a fractured reading experience to symbolize the duality of virtual and physical identities, meanwhile, establishing a rhythmic interplay between reading and visual observation.

The metaphor of "Probability Events of Rain" derives from a personal journey and international relocation experience. The concept of Probability Events captures the objective spectacle of technological mobility, while the umbrella, the other terminology I used in my thesis, serves as a metaphor for the emerging contradictions and challenges that arise within this context. The thesis critically examines the current landscape and aims to provoke new inquiries into the transformative nature of technology. It seeks to delve into the possibilities of transcending physical experiences and traditional media in graphic design, synthesizing function and form to create a collective identity that resonates with the hybrid nature of our present moment.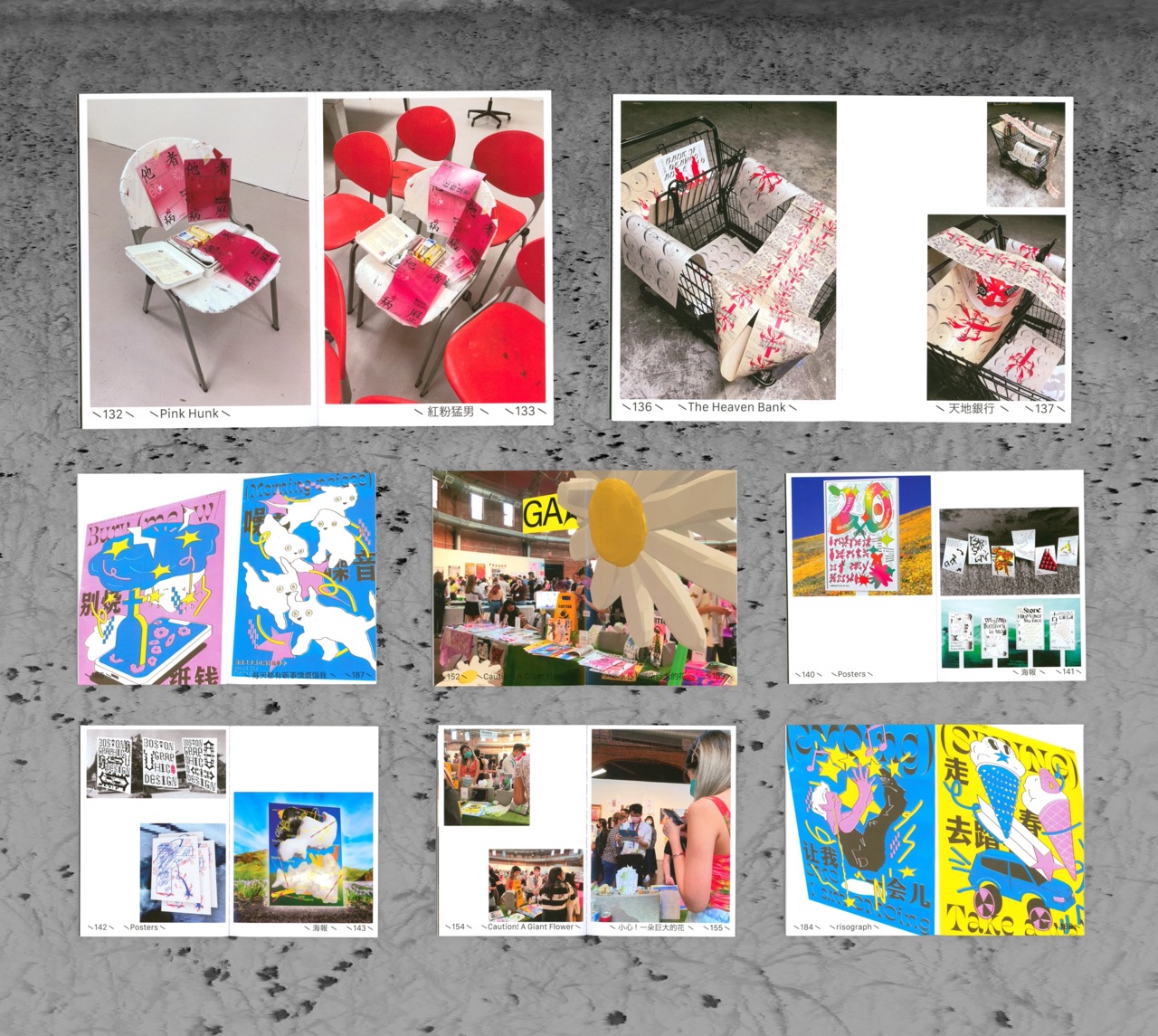 Visual Identity
Multiple Format 2023
2023
Branding
Multiple Formats is a three-day event consisting of a contemporary Art Book Symposium, keynote presentation, and art book fair. It aims to foster discussions on artist books, higher education, pedagogical practices, advocacy, and distribution, collection, and access. The visual identity is characterized by various letterforms and shapes, reflecting its inclusive and flexible nature as a forum for artist book publishing conversations.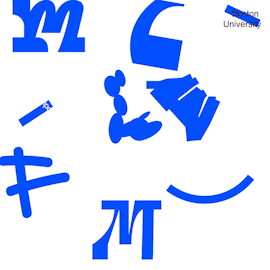 Visual Identity
HIDE SELF VIEW
2023
Branding
The 2023 Boston University Graphic Design MFA Exhibition, Hide Self View invites reflection on visible participation, the line between personal and public work, and explores how visual communication can mirror the current moment. The exhibition creates an environment for self-discovery, knowledge-sharing, and celebration, while spotlighting the various ways and spaces where graphic design currently operates.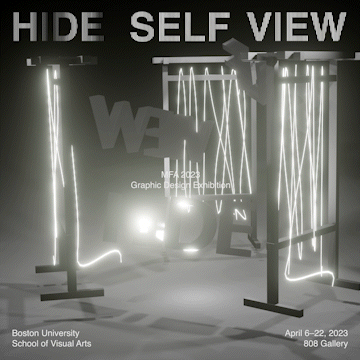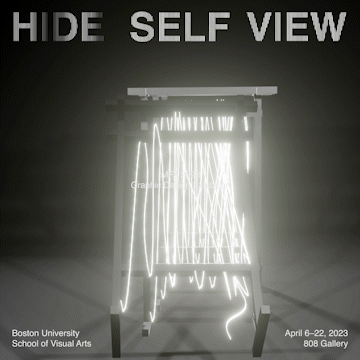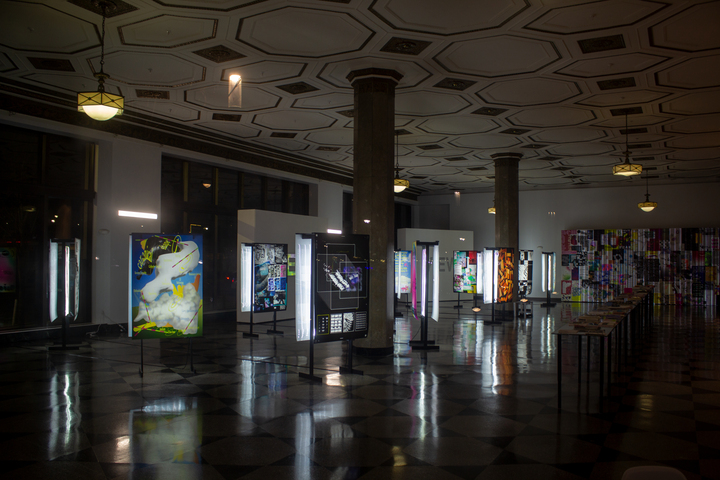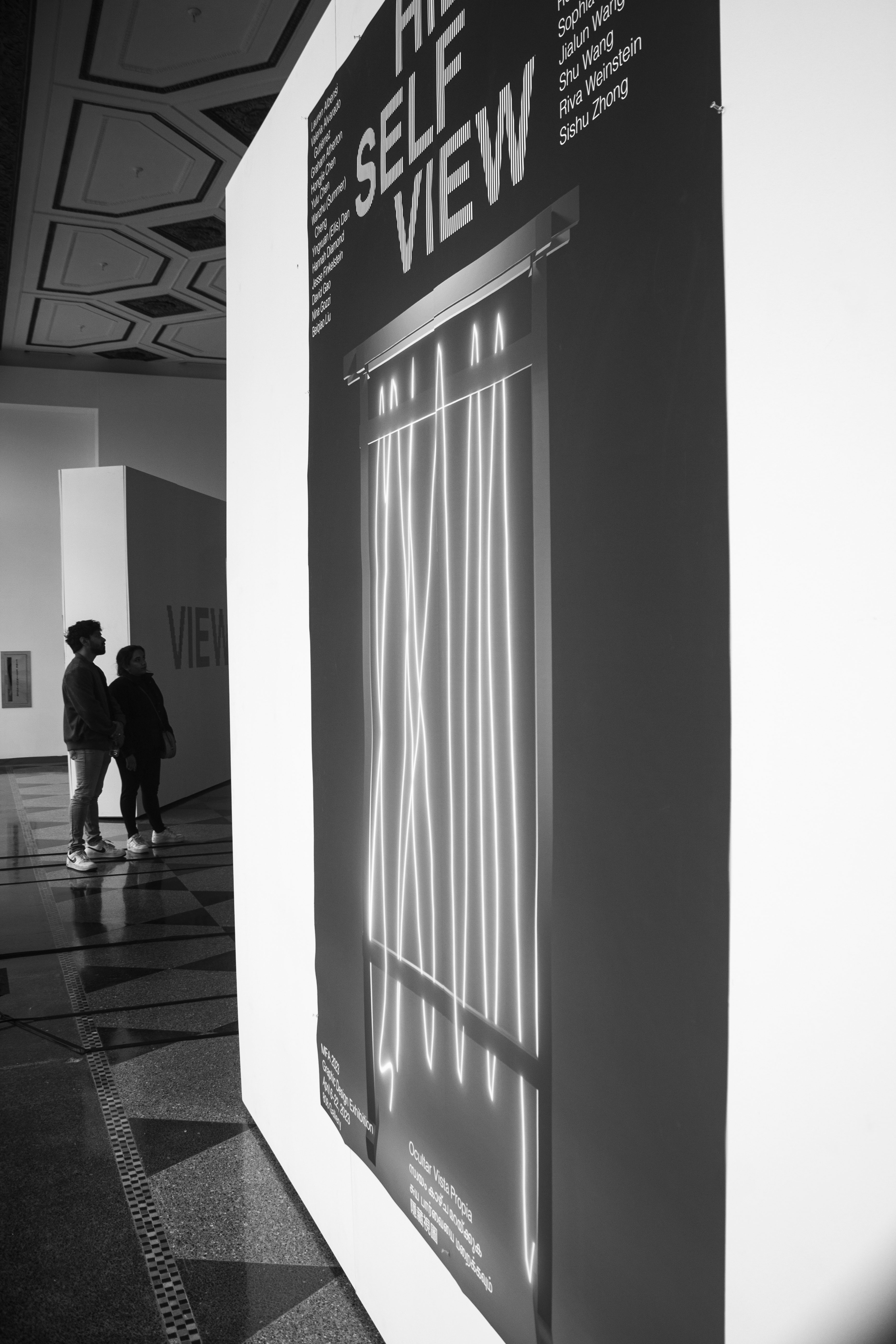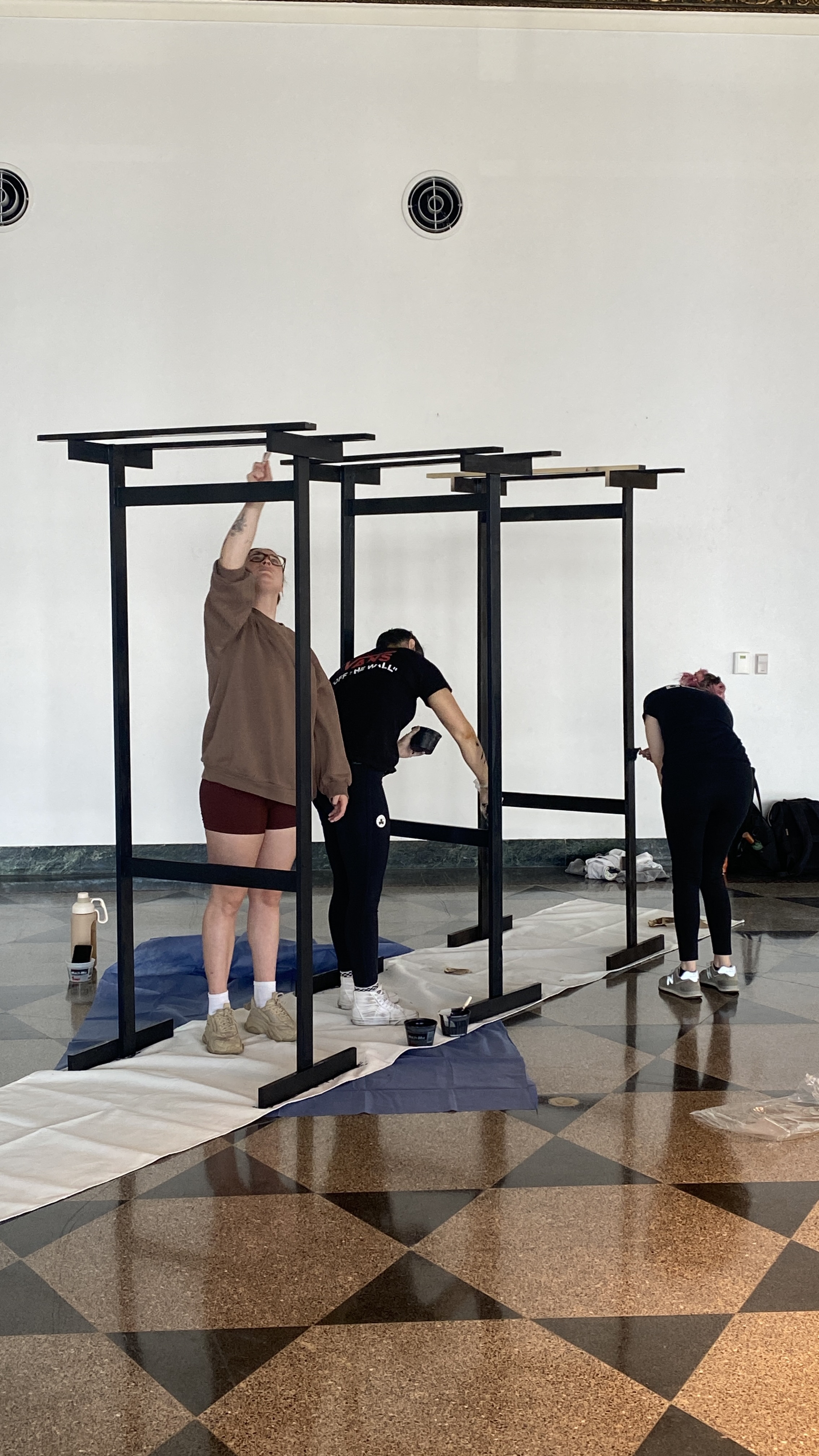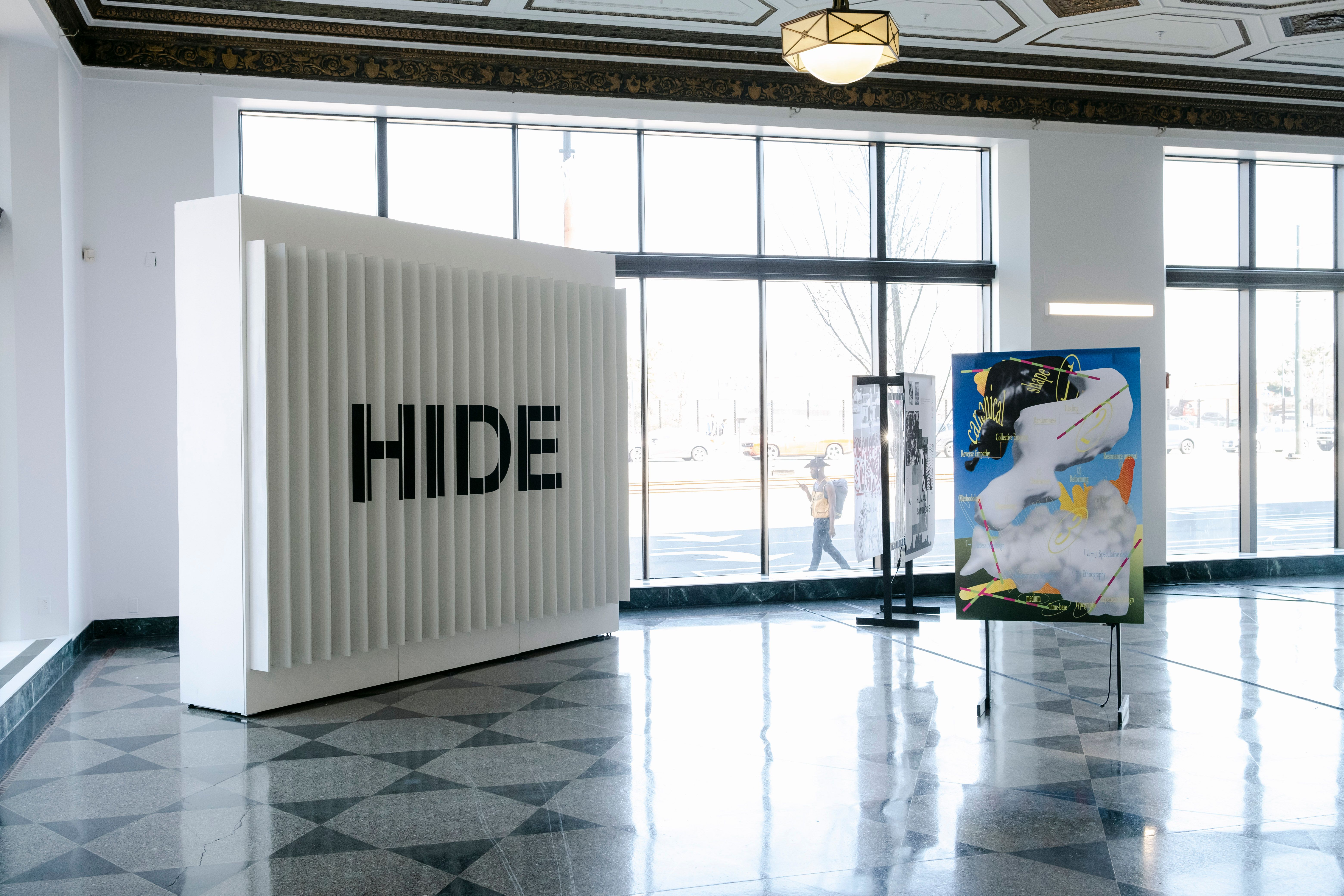 Visual Identity
BU 2022 MFA Exhibition
2021
Branding


Collaborate with Chen Luo,
Chuck Gonzales,
and Reshma Vijayan.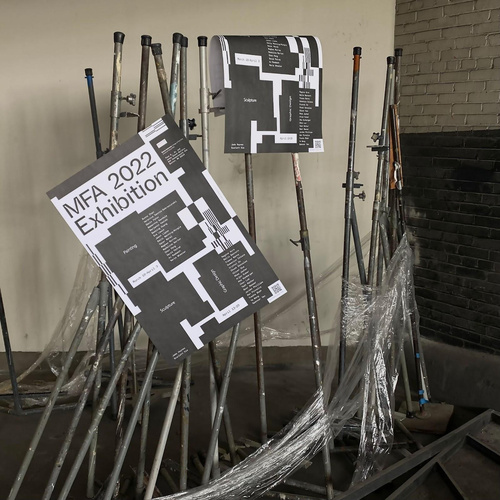 Visual Identity
Frame/Work/Site
2022
Branding


Collaborate with Chen Luo
and Chuck Gonzales.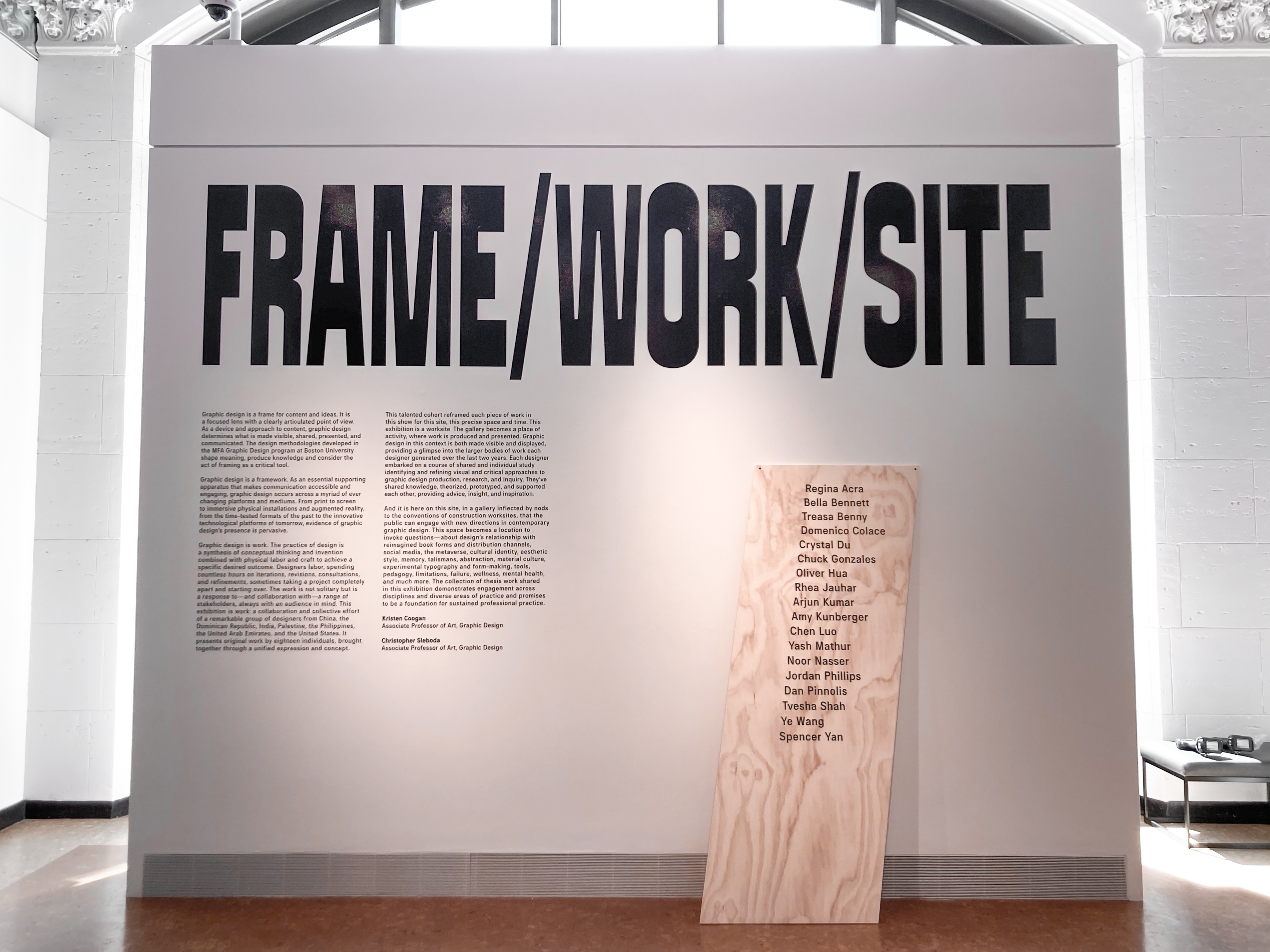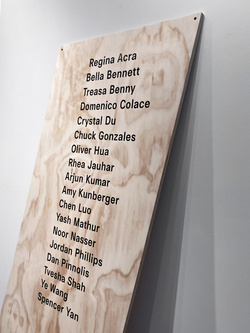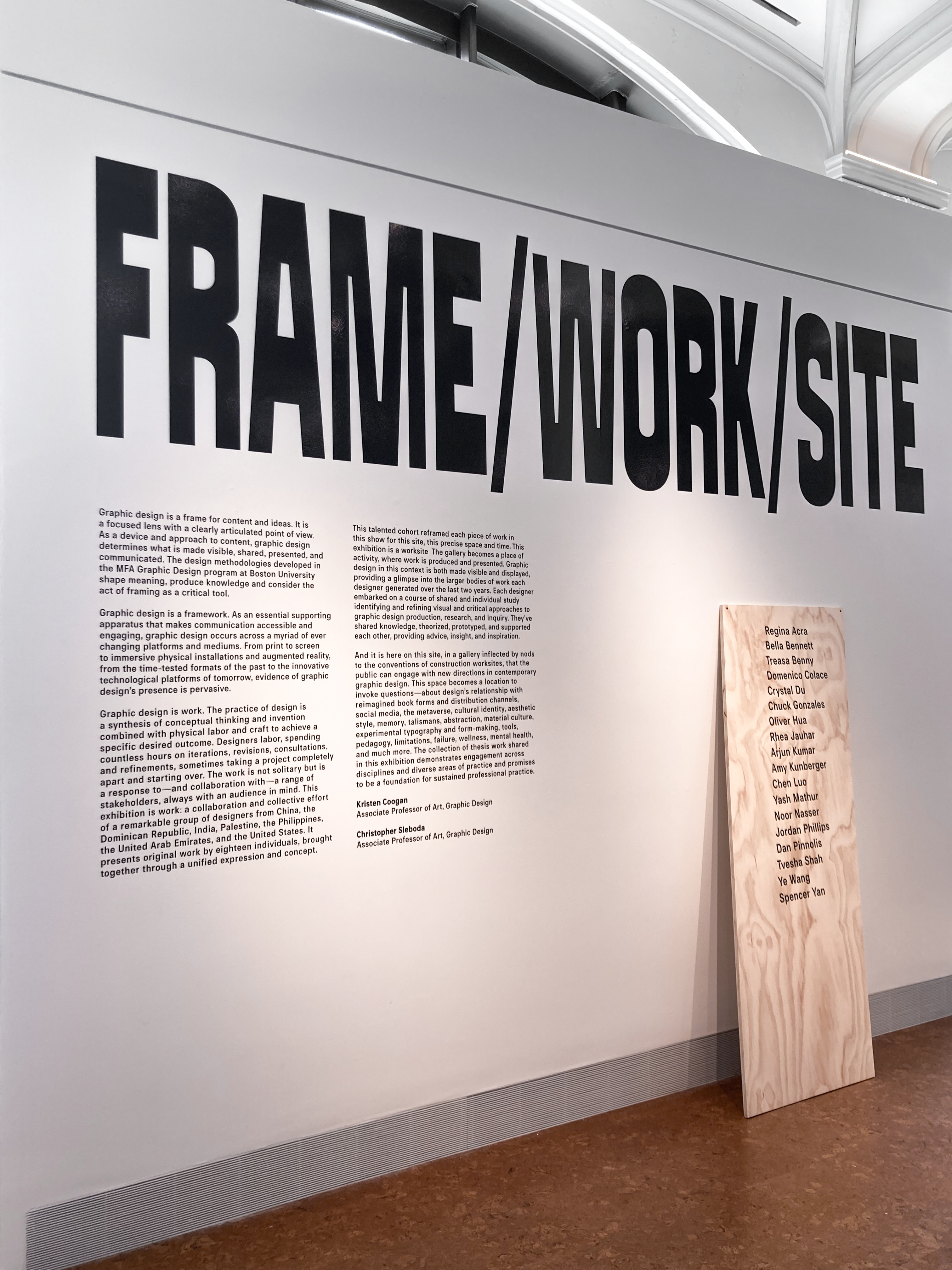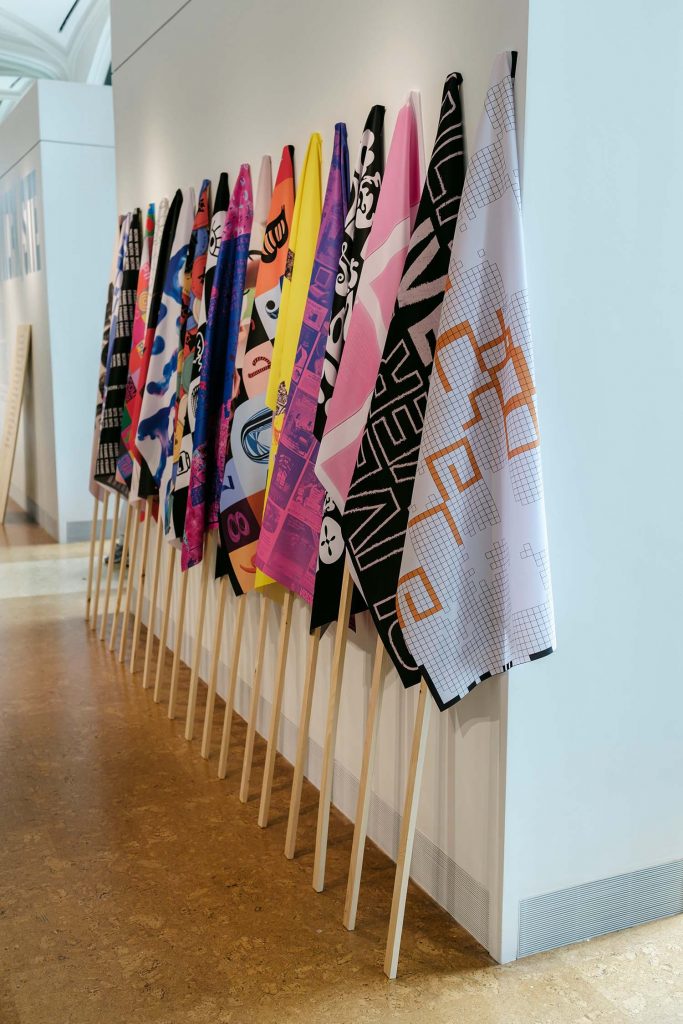 Interactive
Typography
A Pixel Went Out
in the Night
2022
"A Pixel Went Out in the Night" is an immersive and interactive art experience that employs typography to evoke collective emotions related to death through visual and auditory means. The work is inspired by the artist's personal experiences during the epidemic, including the public's indifference towards death and the artist's own feelings of helplessness and grief at losing loved ones. The visual component of the piece utilizes nine Chinese characters from Huineng's interpretation of death in the Sixth Patriarch's Tanjing, presented on the screen in different combinations and images using a camera. Unrecognizable pixels in each frame are transformed into black dots, symbolizing the fleeting nature of death that occurs every moment, regardless of our interactions with it.

The accompanying music is structured as a series of narrative chapters, representing the cyclical nature of death. The artwork raises thought-provoking questions about death, such as its appearance, potential correlations or causality, and whether it represents a fatalistic end.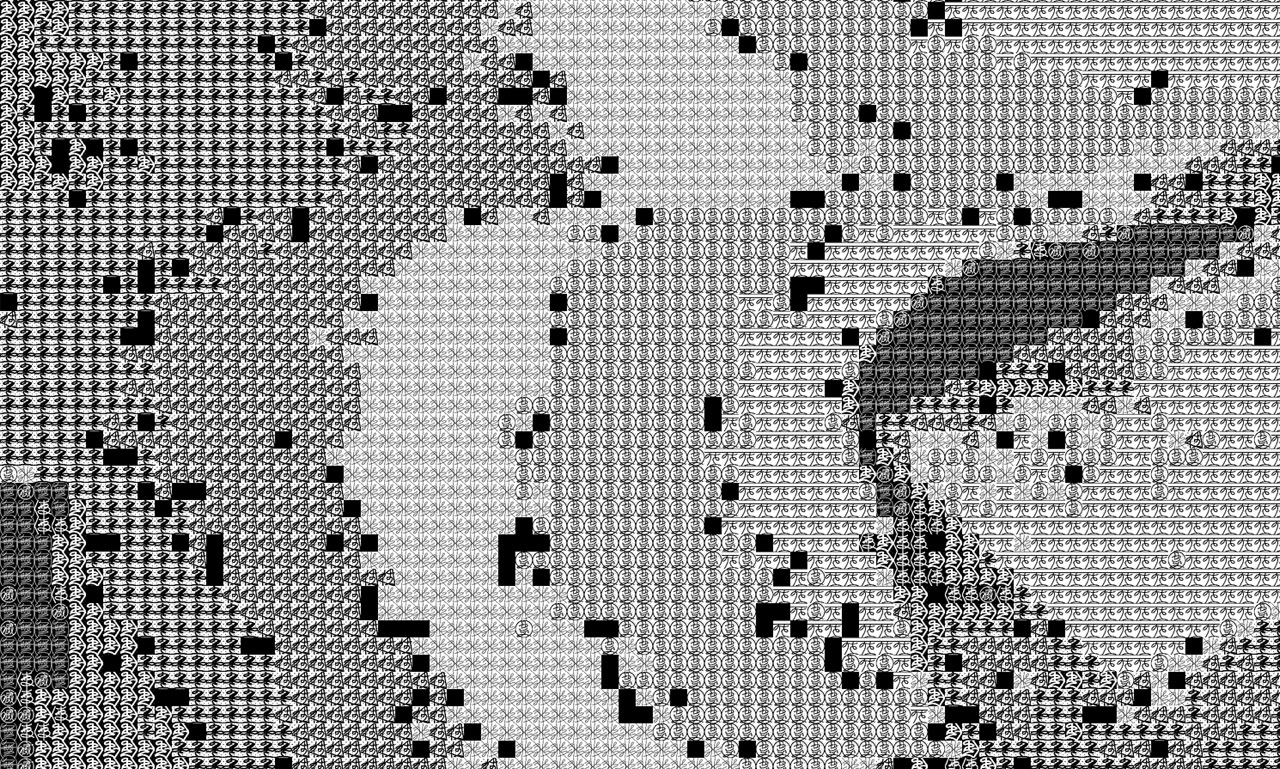 AR Installation
Caution! A Giant Flower
2022
Collaborate with Hongjie Chen.
At the 2022 Boston Art Book Fair, "Caution! A Giant Flower." was presented as an AR micro-exhibition. The exhibit was a collaboration between Hongjie Chen and myself, and followed our attendance at four art book fairs across the US this year, which have resumed after the pandemic hiatus. This unique AR exhibition challenged the traditional physical presentation of works at art book fairs, prompting questions about whether printed materials could be presented digitally, and whether designers and artists could physically present without their works.

Our intention with "Caution! A Giant Flower." was to bring joy to people of all ages, genders, cultures, and religions, while also addressing serious topics that are often difficult to discuss. The giant flower represented unspeakable topics or words that we are forbidden from discussing, such as personal traumas, cancel culture, or political issues. These topics are like the giant flower: they remain silent, yet visible. The micro-exhibition raised questions on an individual and cultural level about what is hidden and why we should be cautious when addressing these topics.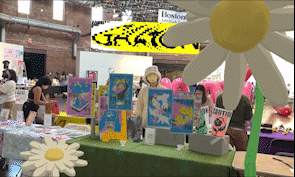 Typeface Design
LACTICIDUP
2022
LACTICIDUP is an innovative display typeface that draws inspiration from the lactic acid buildup that occurs during weightlifting and the spread of viruses during the pandemic. The process of lactic acid buildup can result in muscle soreness and fatigue, akin to the burn felt during an intense workout. The typeface aims to visually represent this uncomfortable experience through the use of cell-like letterforms and nerve-like kerning. LACTICIDUP comprises 26 Latin capital letters as well as some basic punctuation.

Typeface Design
CHITCHAT
2022
Collaborate with Hongjie Chen.
CHITCHAT is a typography duet inspired by a dating reality show called Single's inferno. It includes two typefaces, Penumbra and Teleneuron. The dating reality show focuses on social relationships, money relationships, and emotional changes between different genders in the city. This topic about relationships has led to a wide social discussion. So I created different typefaces based on the relationship to form dialogues and create relationships, use an art pop-up shop to create fields for such dialogues and relationships, and use space to facilitate the conversation between different typefaces.

The typography design is derived from the instability in the relationship, I use this instability for the design of the main tone, the creation from sketching on the paper, and move to a digitalization process. The digitalization process was all in live streaming via Discord (a streaming program) during the process of designing the typeface. During this period, my friends and strangers came to visit and make random conversations. This kind of unplanned dialogue also influenced my design.

This pop-up art store contains posters, T-shirts, ornaments, lightboxes, key charmers, websites, animations, books, mini bags, and more. In different mediums, the audience will be able to experience the different relationships and dialogue of typography in physical and virtual ways. This metaphor of relationship and dialogue was my first attempt at fonts and exposing them to the current consumer society through the field.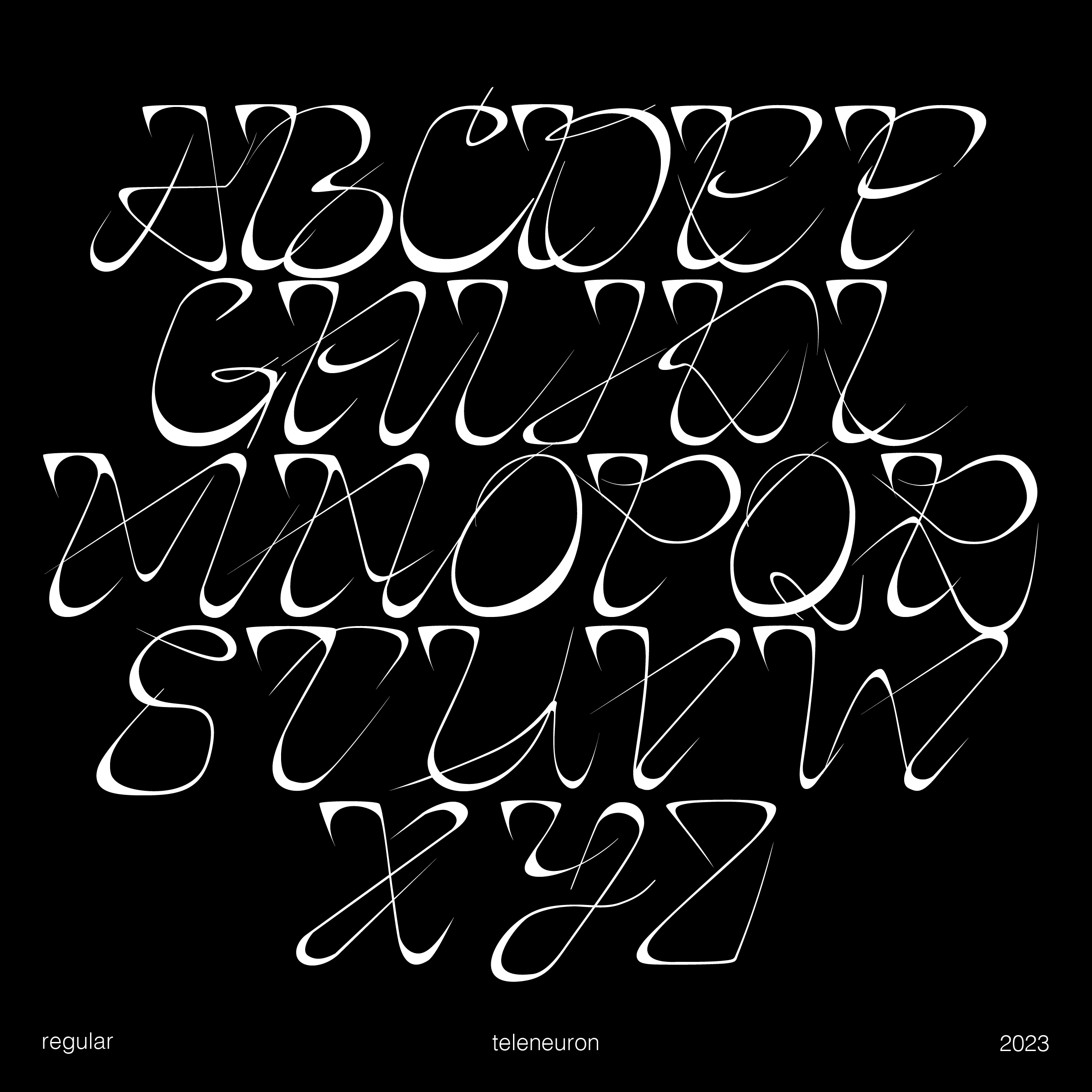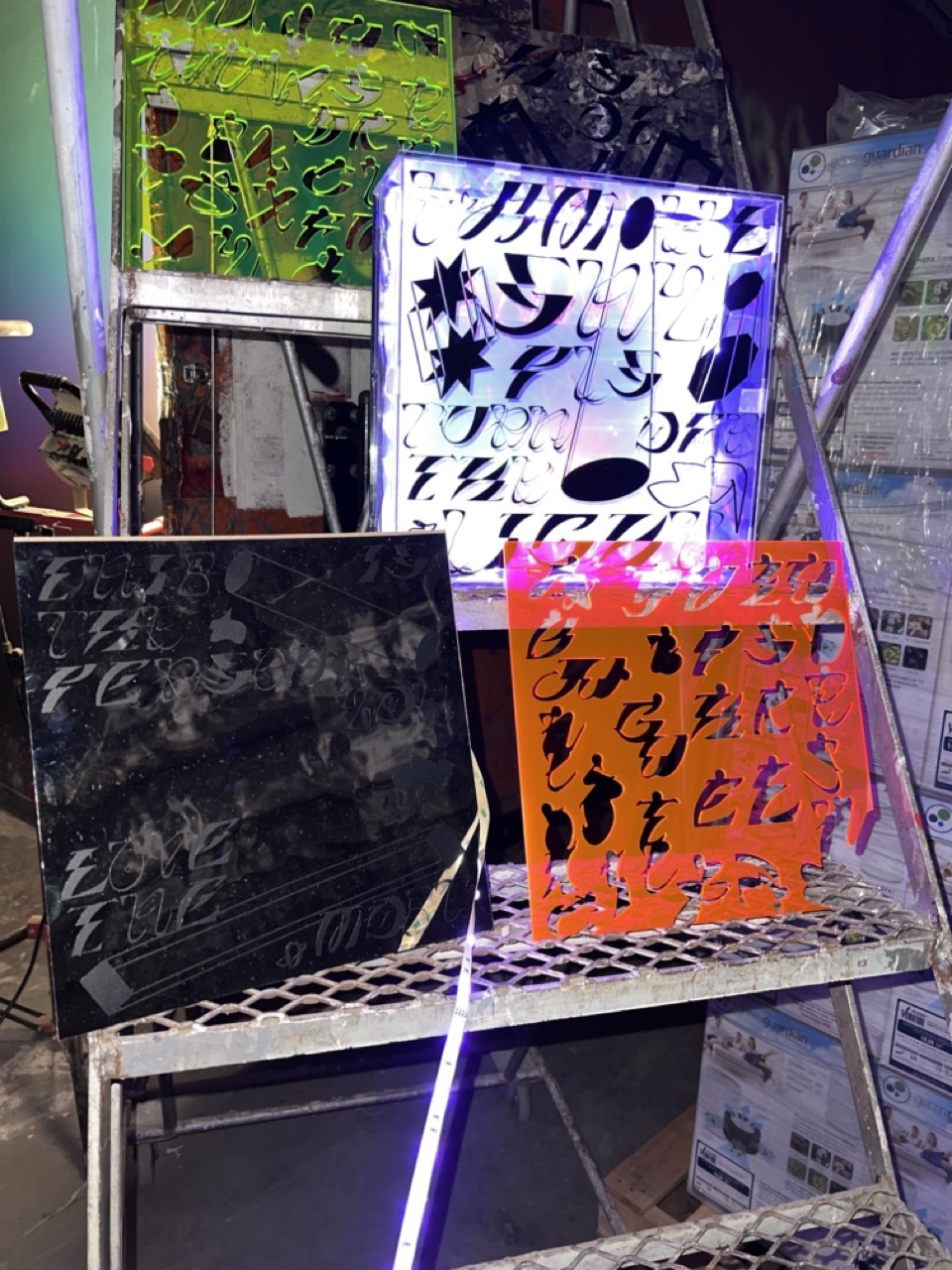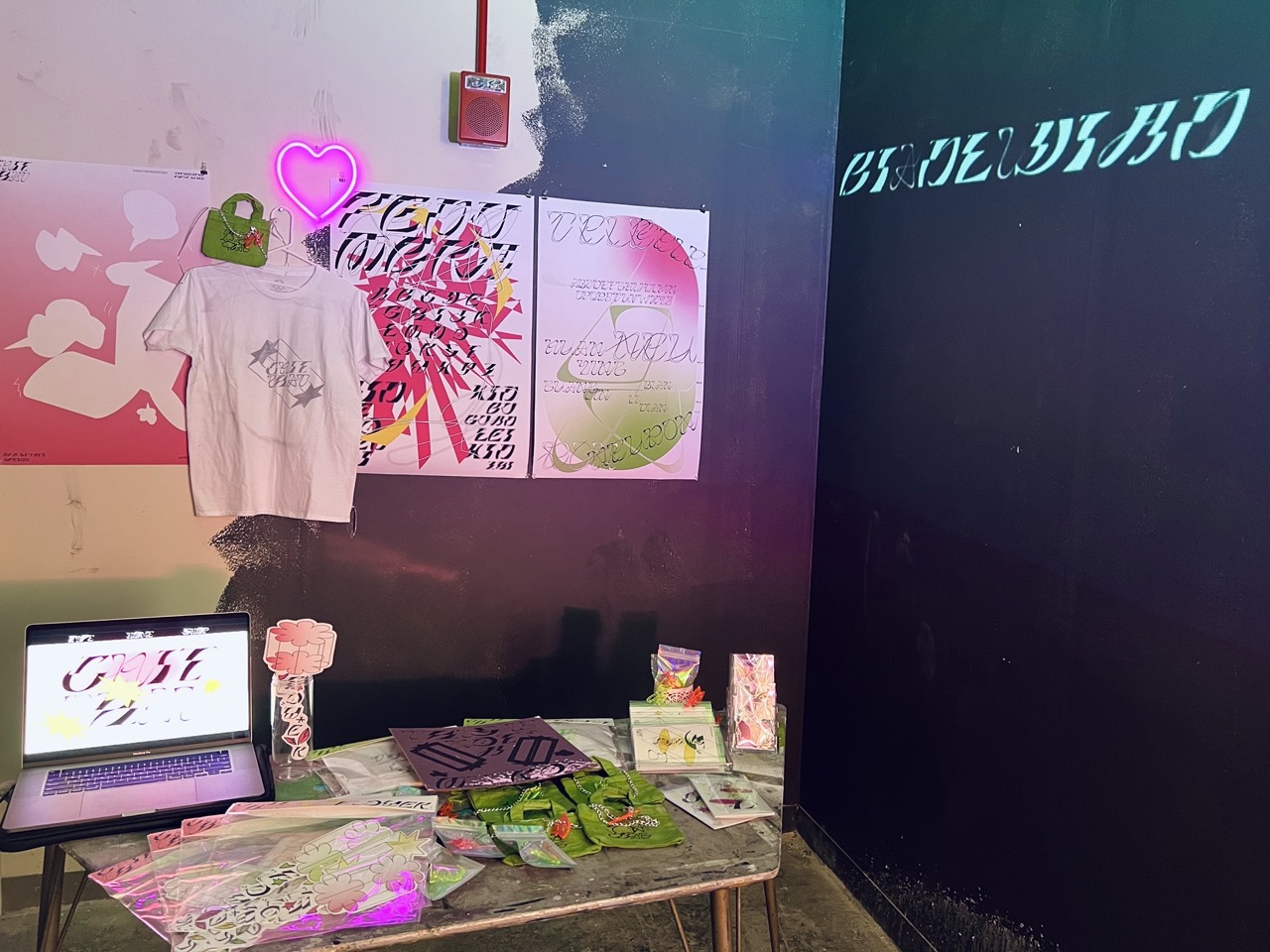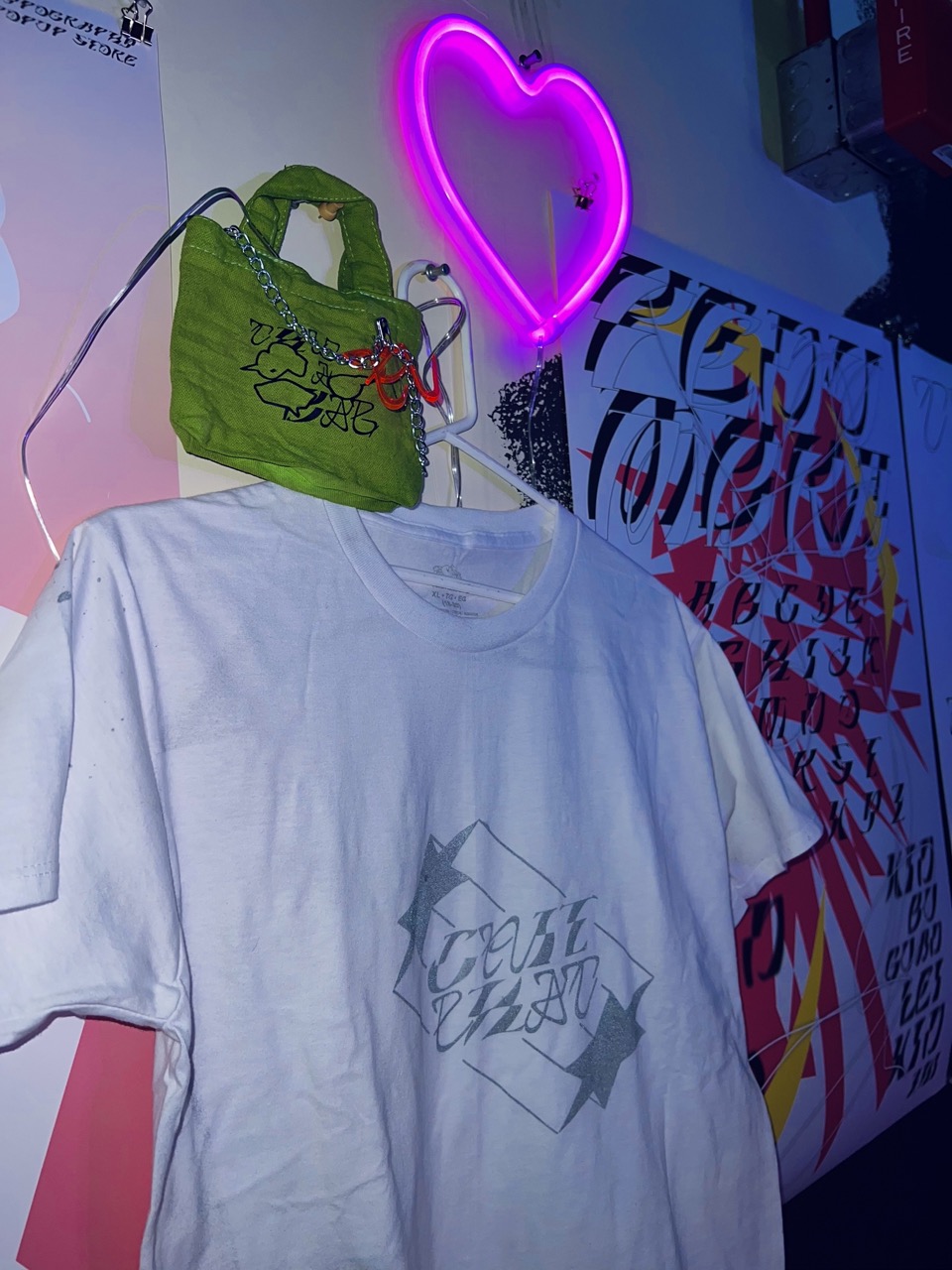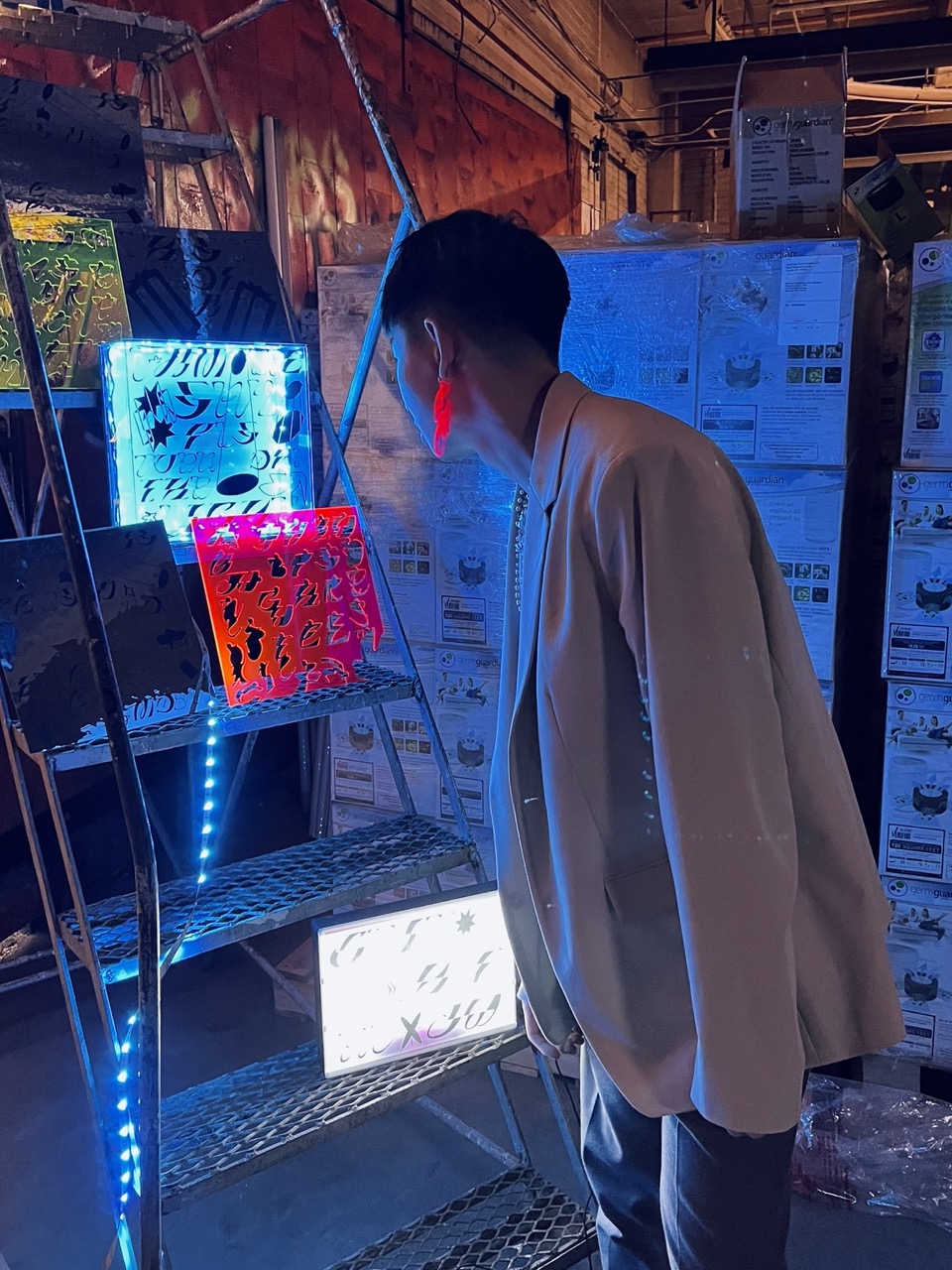 Typeface Design
Worship
2022
Worship is a coded typeface that contains both upper and lowercase Latin letters, used to address topics that are often censored due to cancel culture or totalitarianism. It can be used to express personal trauma or political issues that are not easily discussed. The typeface takes the meaning out of the content, transforming every word into a bouquet or a garden, ironically worshipping totalitarianism. Worship raises questions about what is hidden and what we are truly worshipping, both on an individual and cultural level.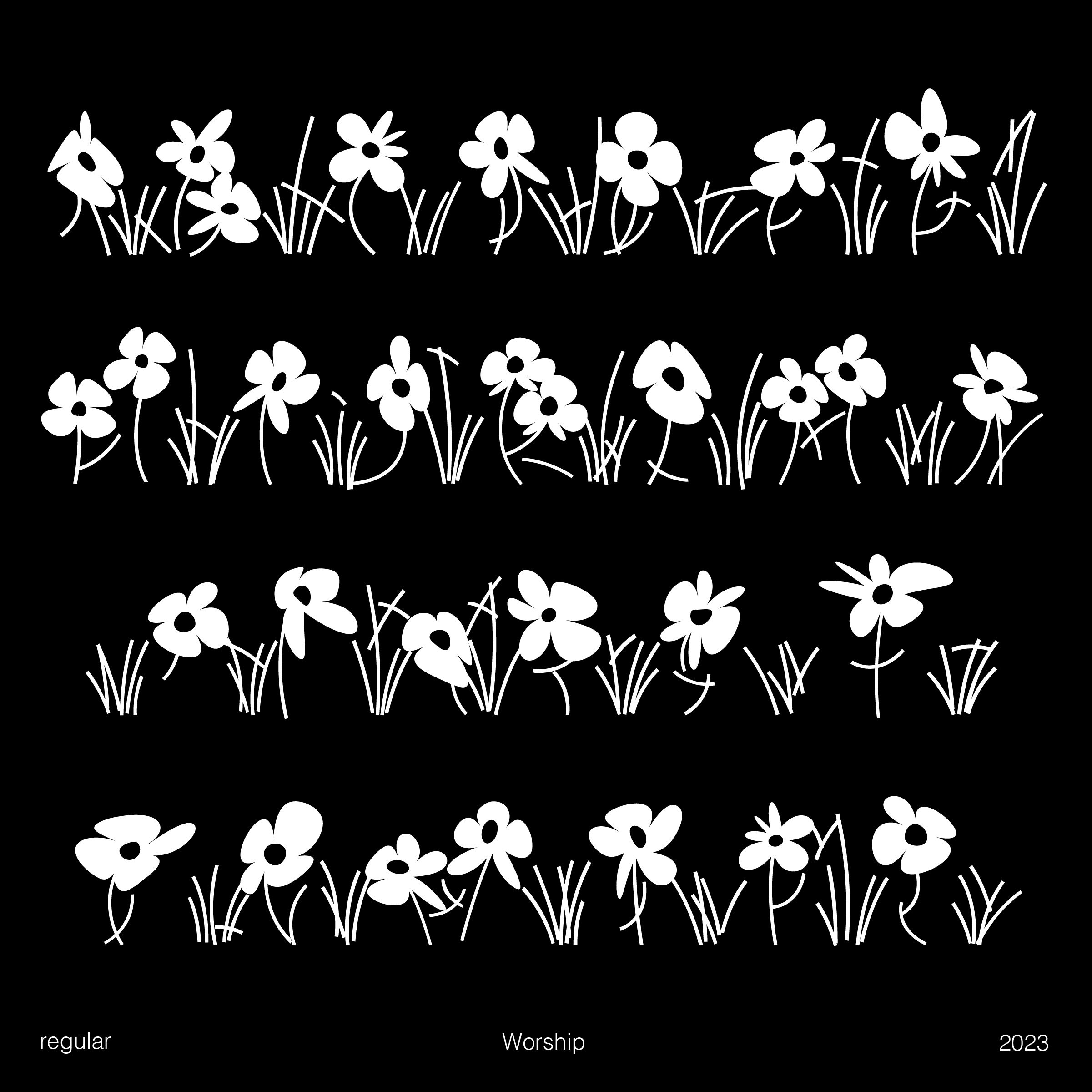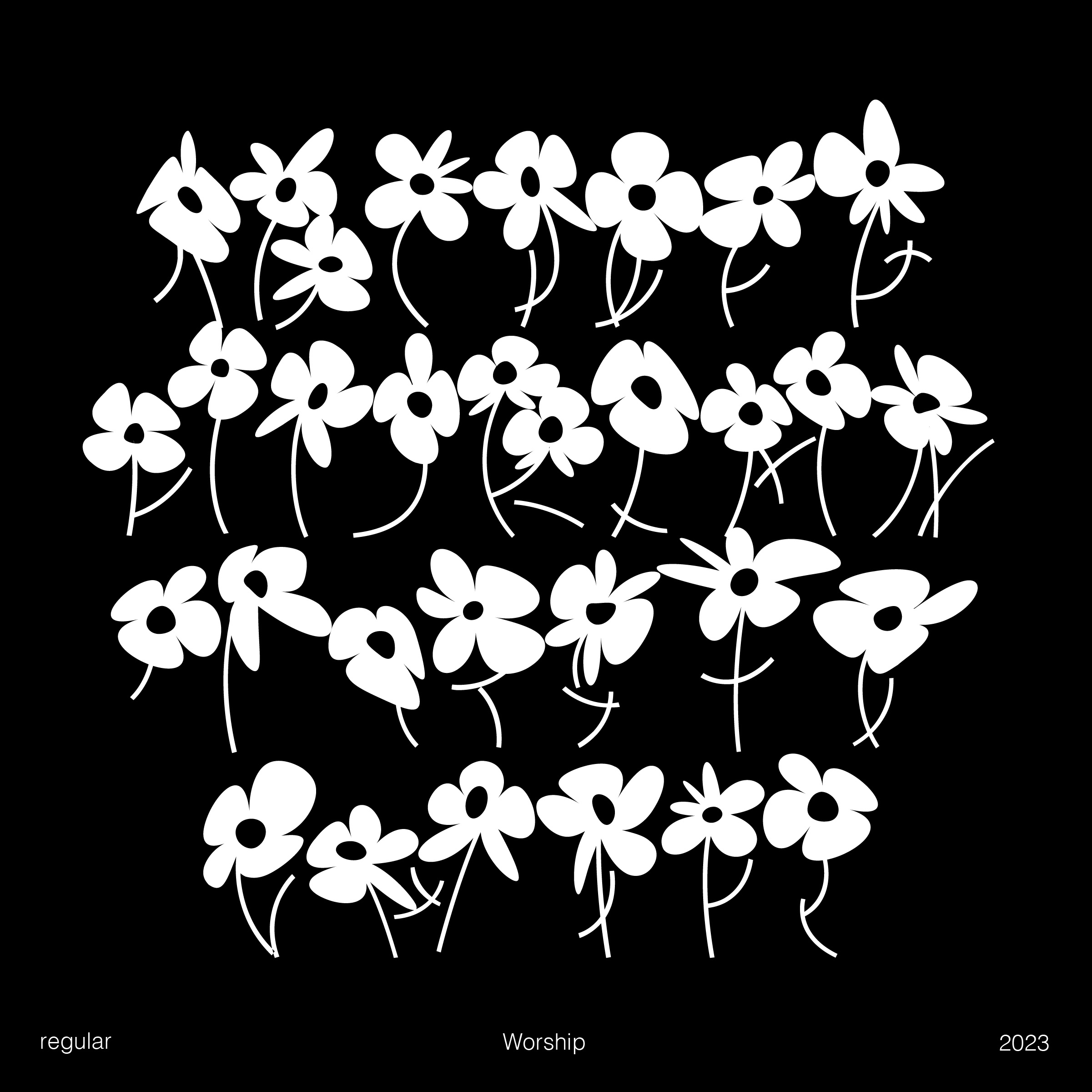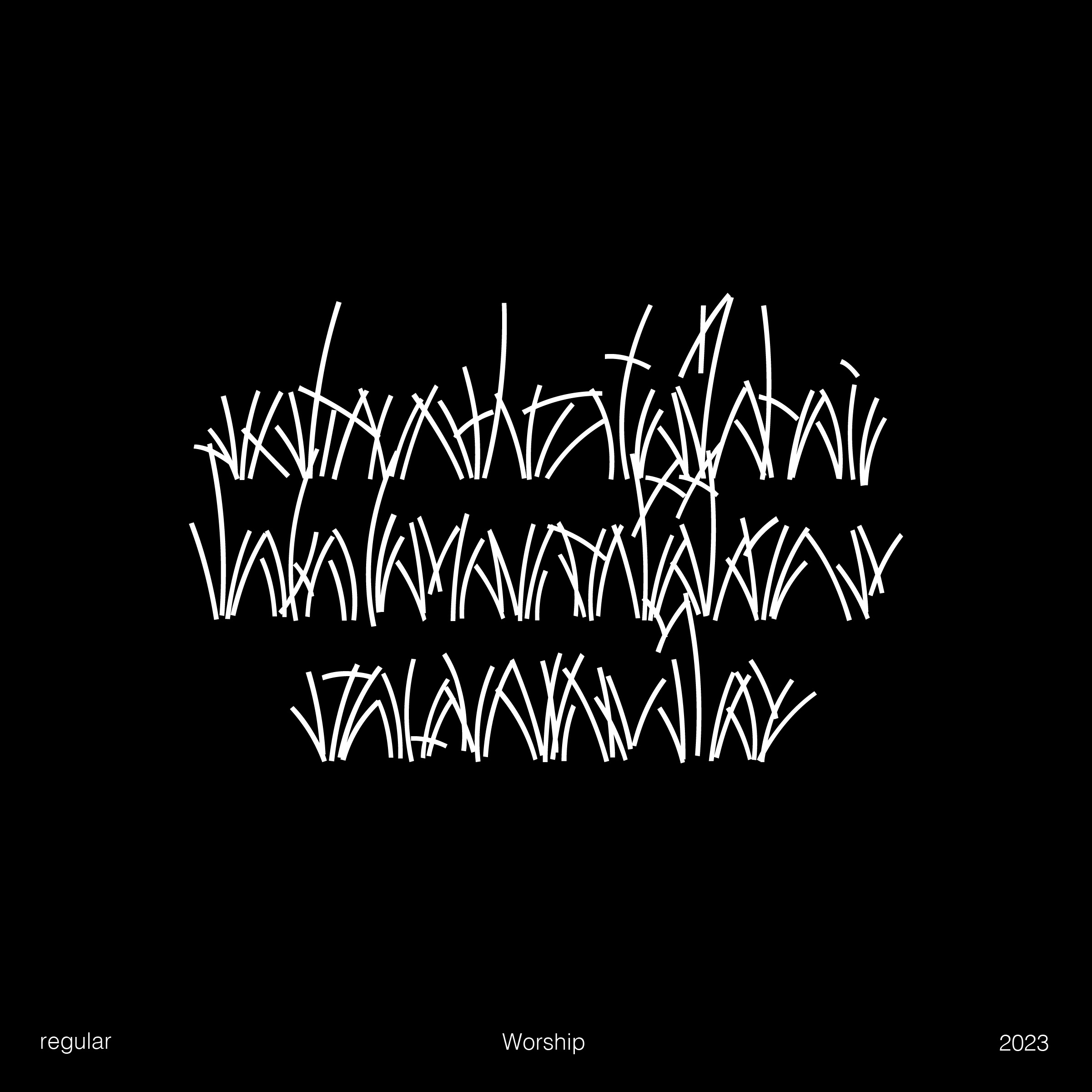 Illustration

Risograph
Everyday New Things
Bother Me
2022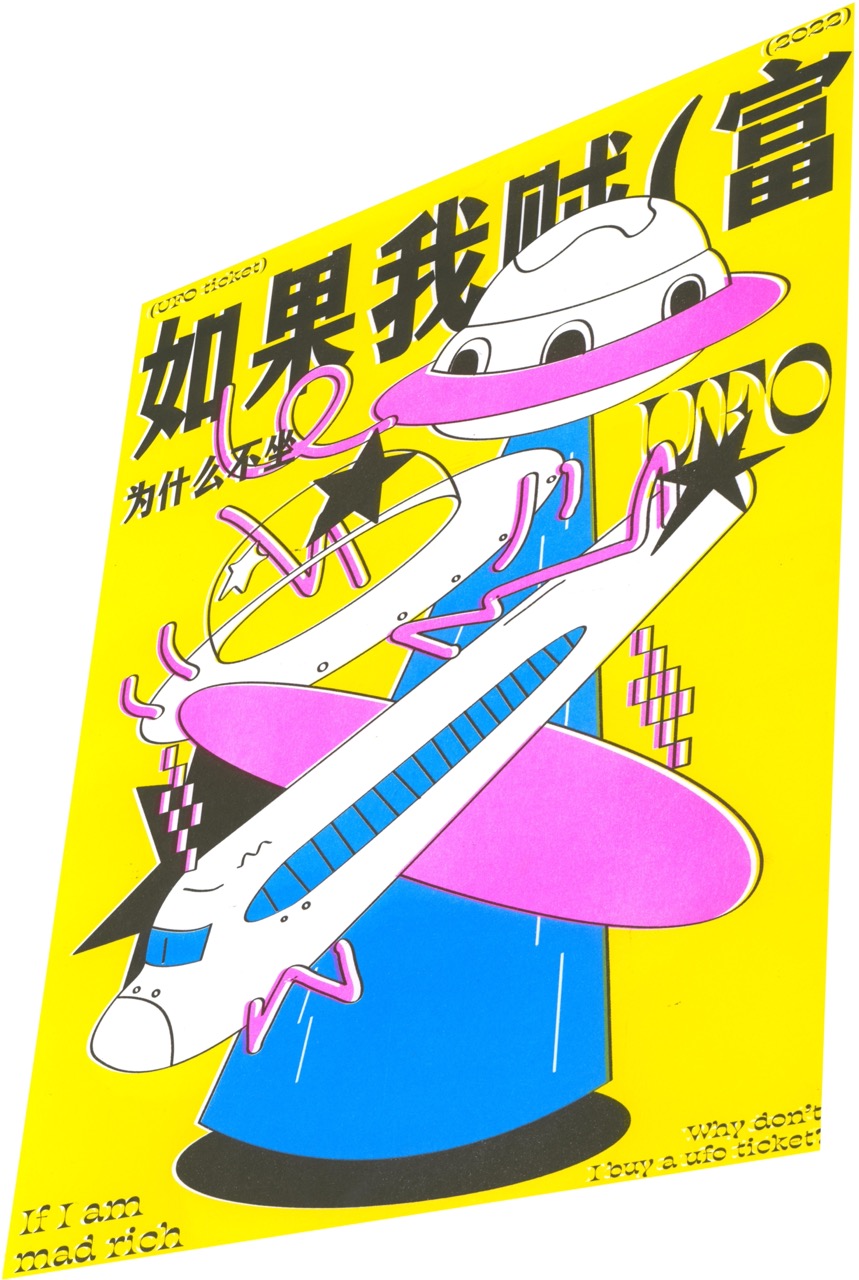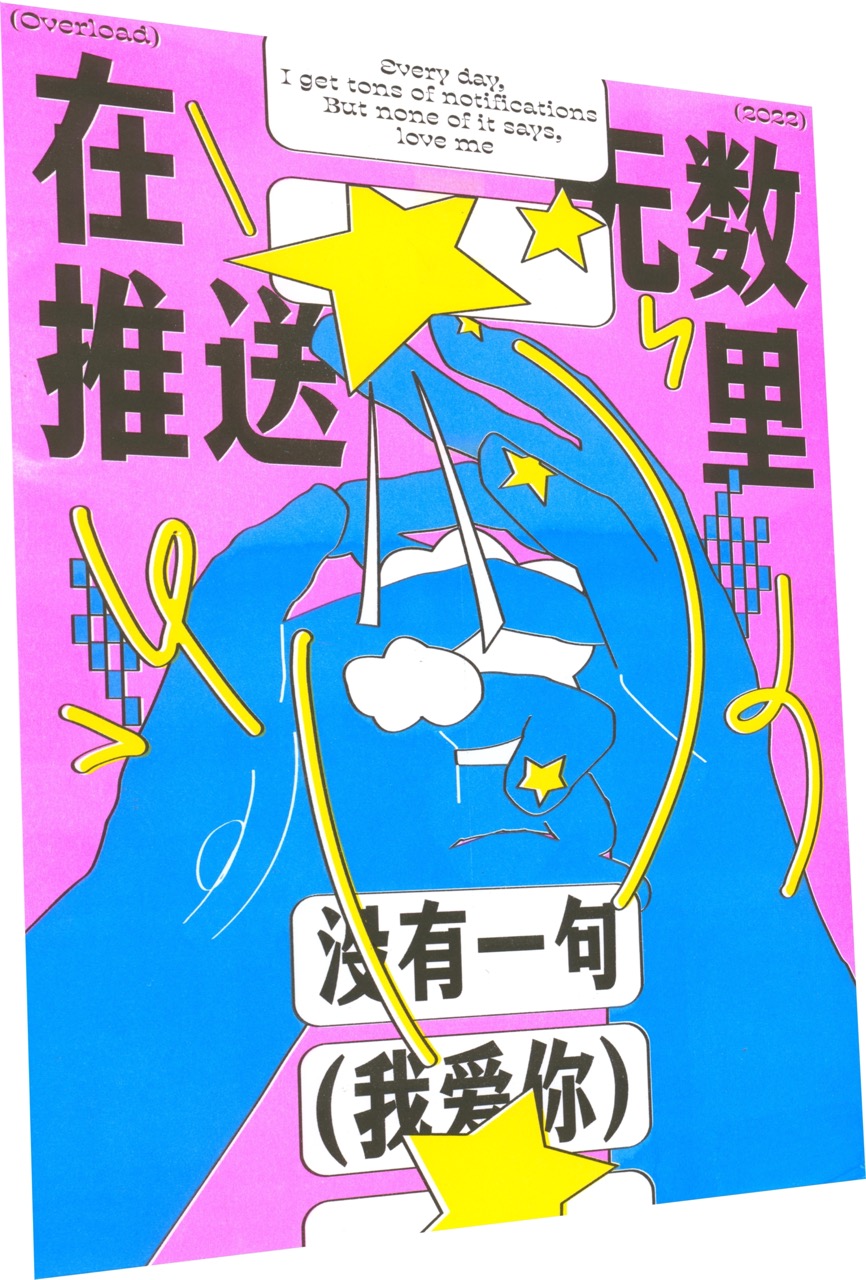 Editorial Design
FLY BACK
2022
FLY BACK is a research project that explores the relationship between death and graphic design, with a focus on developing new forms of empathy through "a priori" design interventions. The aim is to counter the dominant representation-oriented approach to death-care design, and create a more inclusive and diverse understanding of design empathy.

The book features a collection of research articles and projects by artists and designers from around the world and seeks to provide comfort to readers through tactile and visual experiences. The cover of the book features Chinese characters woven into a rug, with the front cover depicting flight and the back cover depicting return, symbolizing the idea that the departure of the dead is also a type of homecoming.

Death is a vast and unknown valley, but through design, we can bring light to others and offer a sense of solace.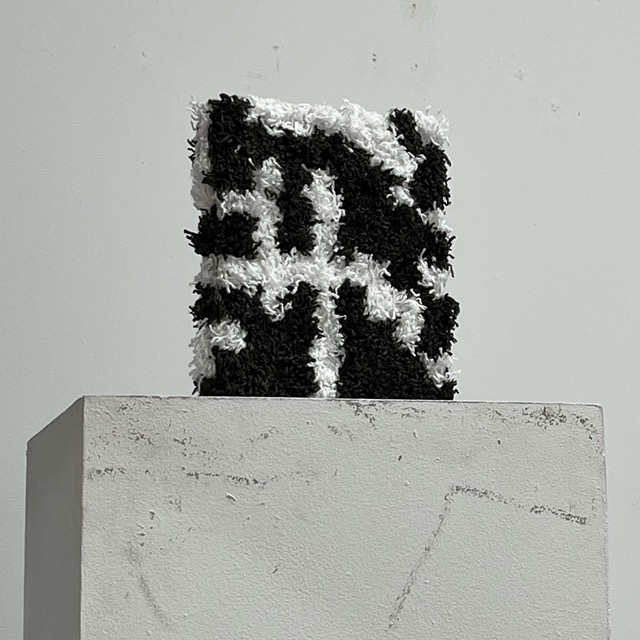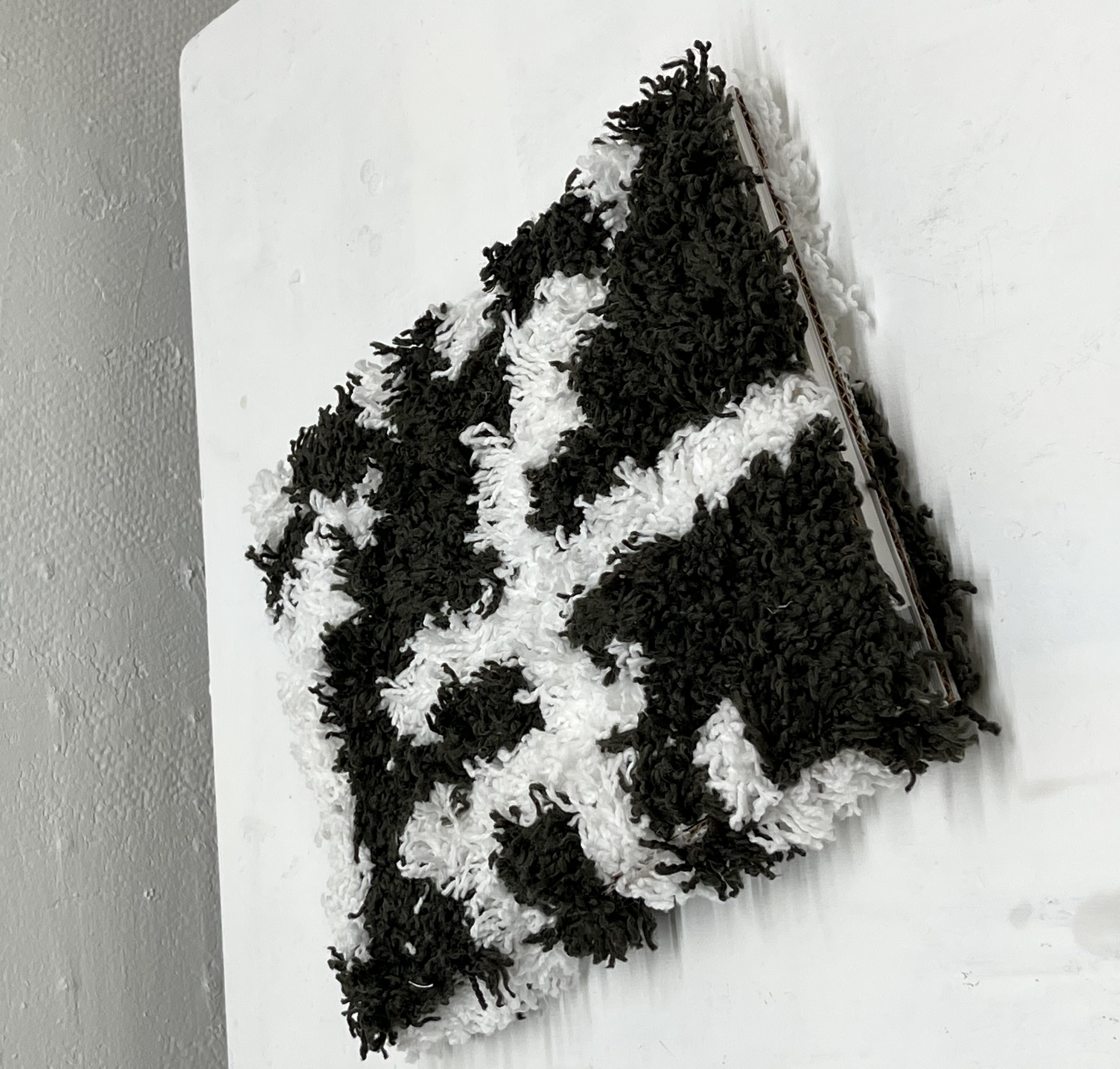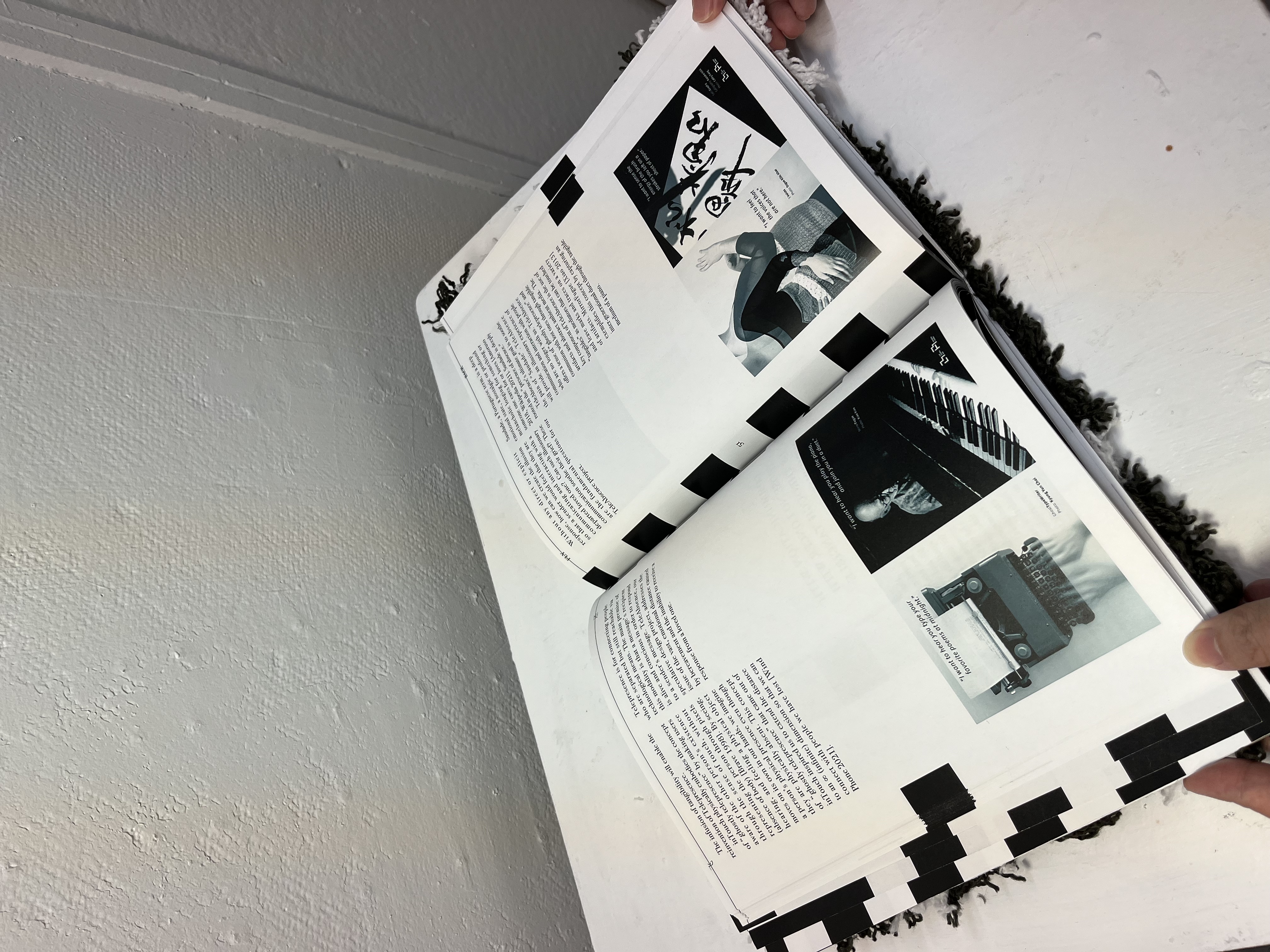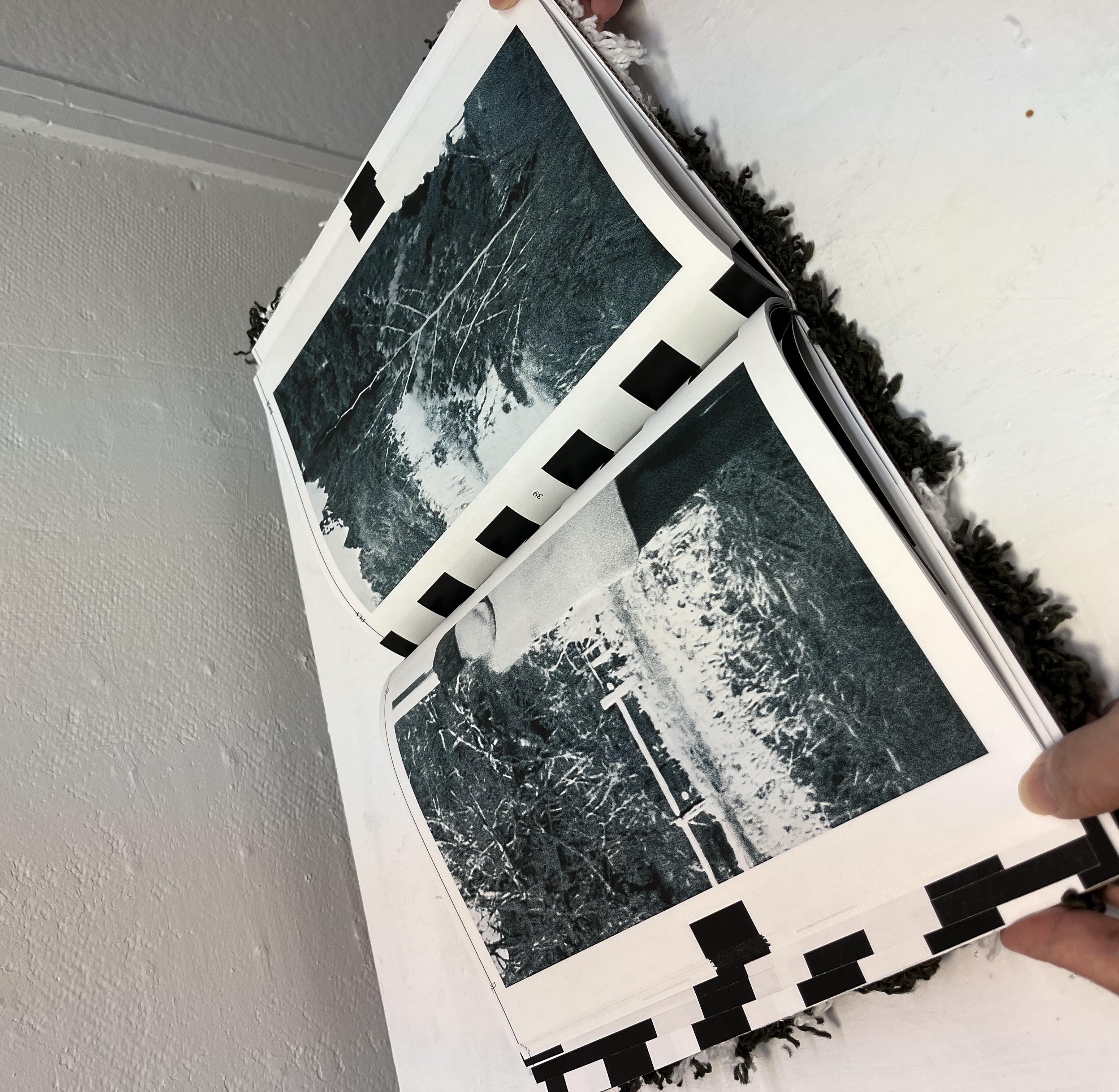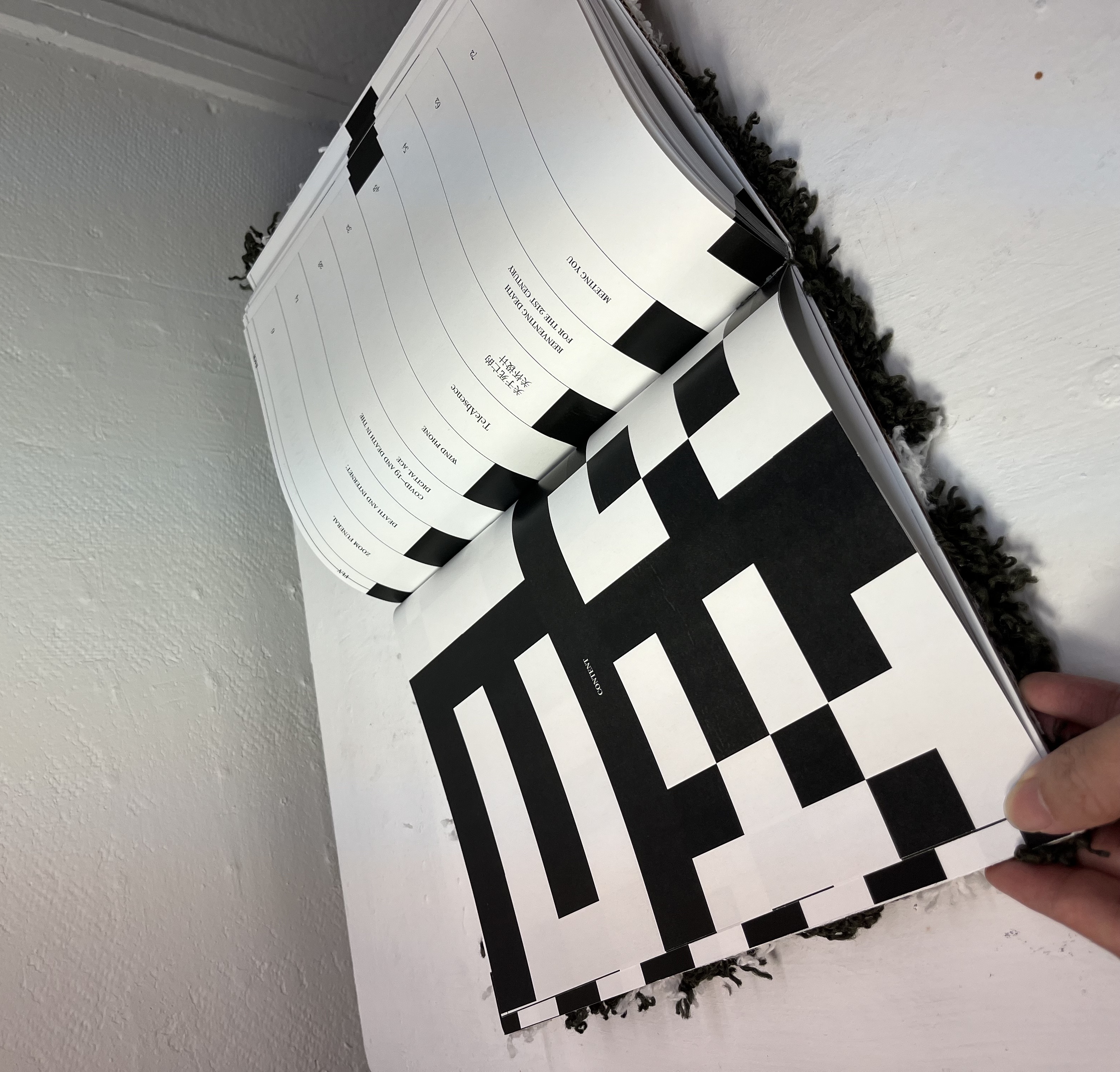 Editorial Design
Cyber Mediator
2021
Cyber Mediator is an anthology of research on design in a society of digital virtuality. The book discusses how such a society will bring about a flourishing of subcultures and how this flourishing will challenge the traditional relationship between images and their symbolic meanings, leading to a breakdown of traditional communication. The book is a revelation of the transformation of the "Anthropocene" in graphic design. It tells the history and development of metaspace in four parts, shedding light on the contemporary tasks of designers who will eventually become the new generation of cultural mediators in the age of a society of digital virtuality. The set is composed of three books of different sizes, containing Chinese, English, and symbolic non-traditional languages (Martian, leetspeak).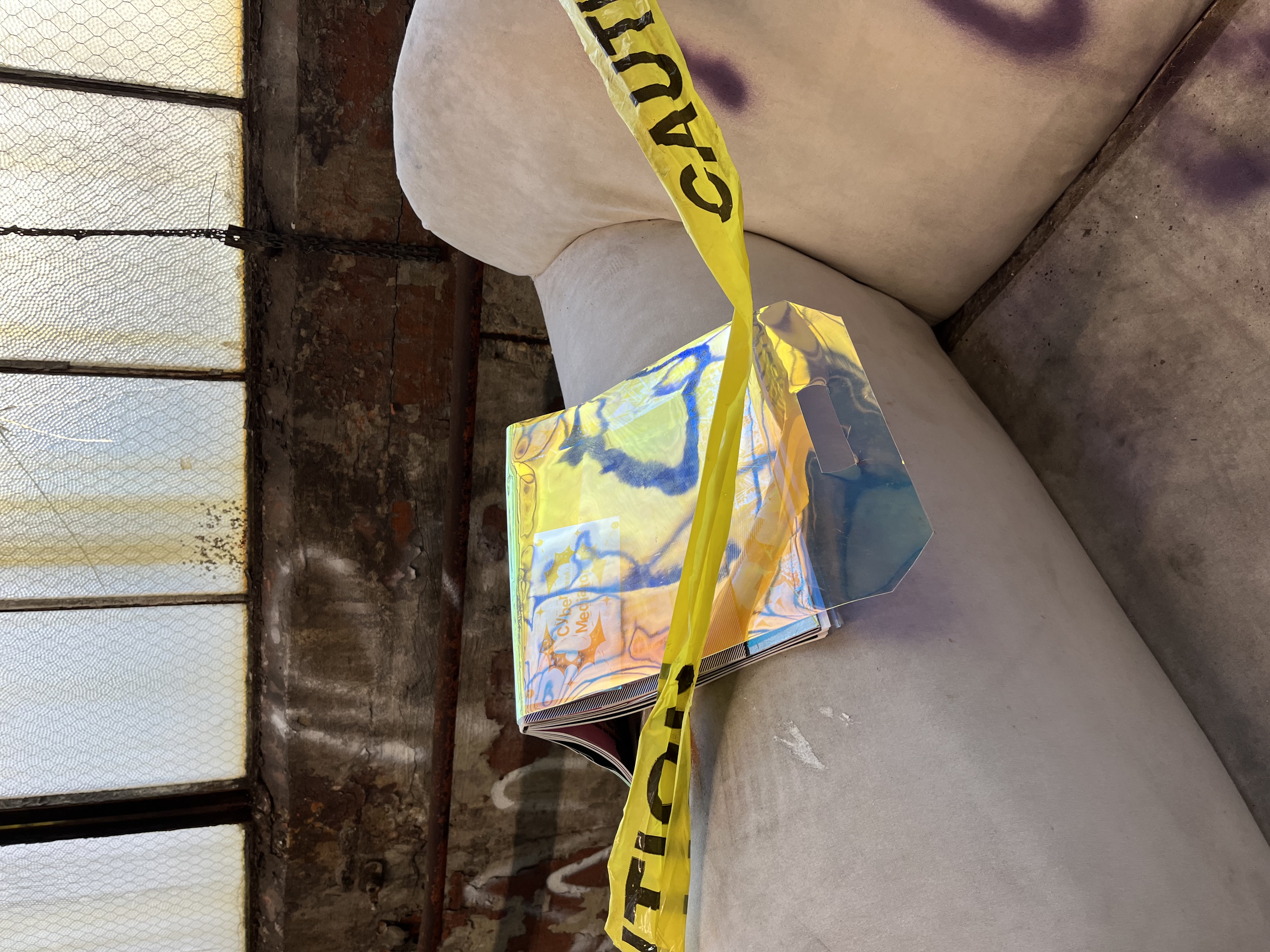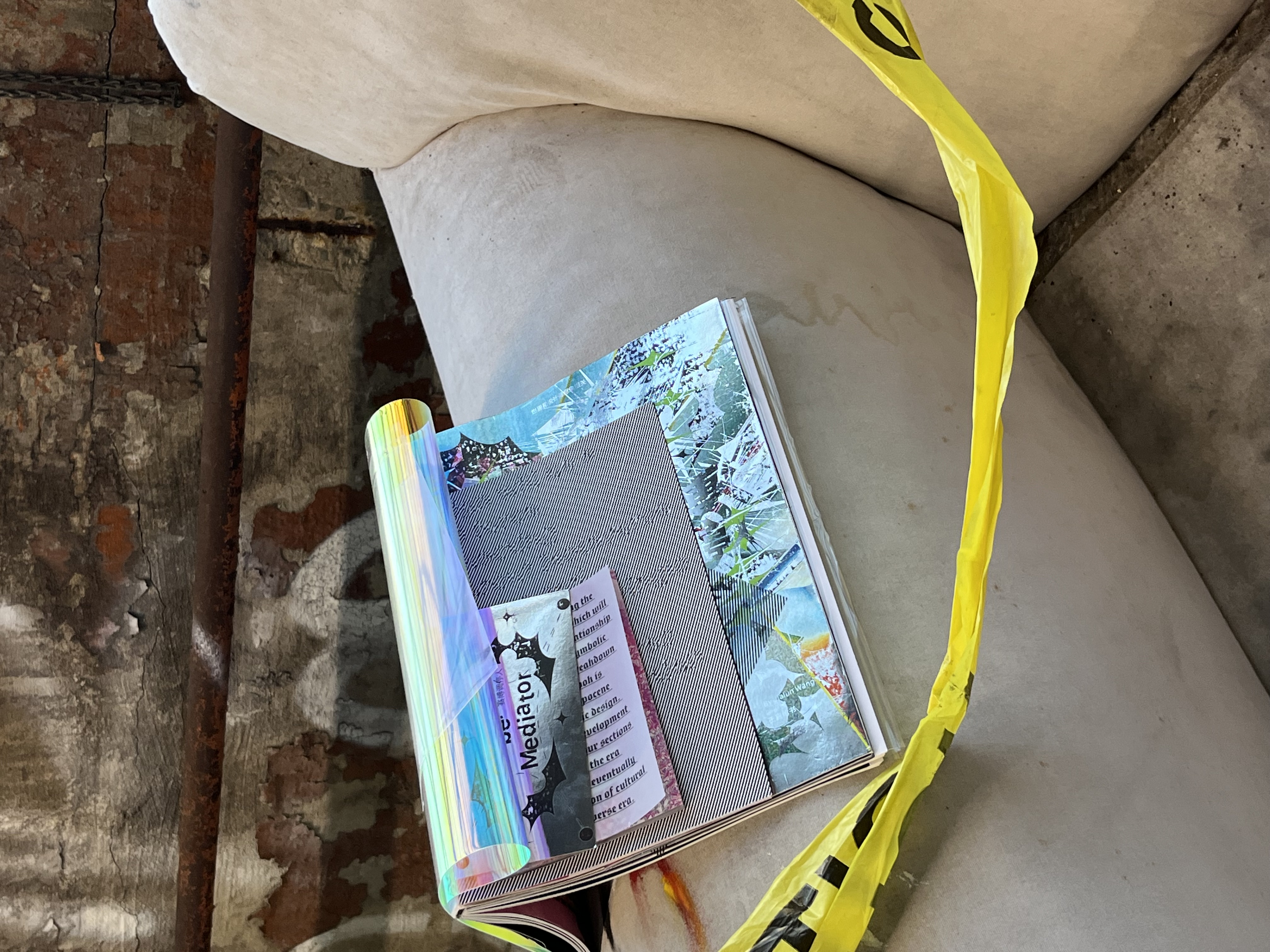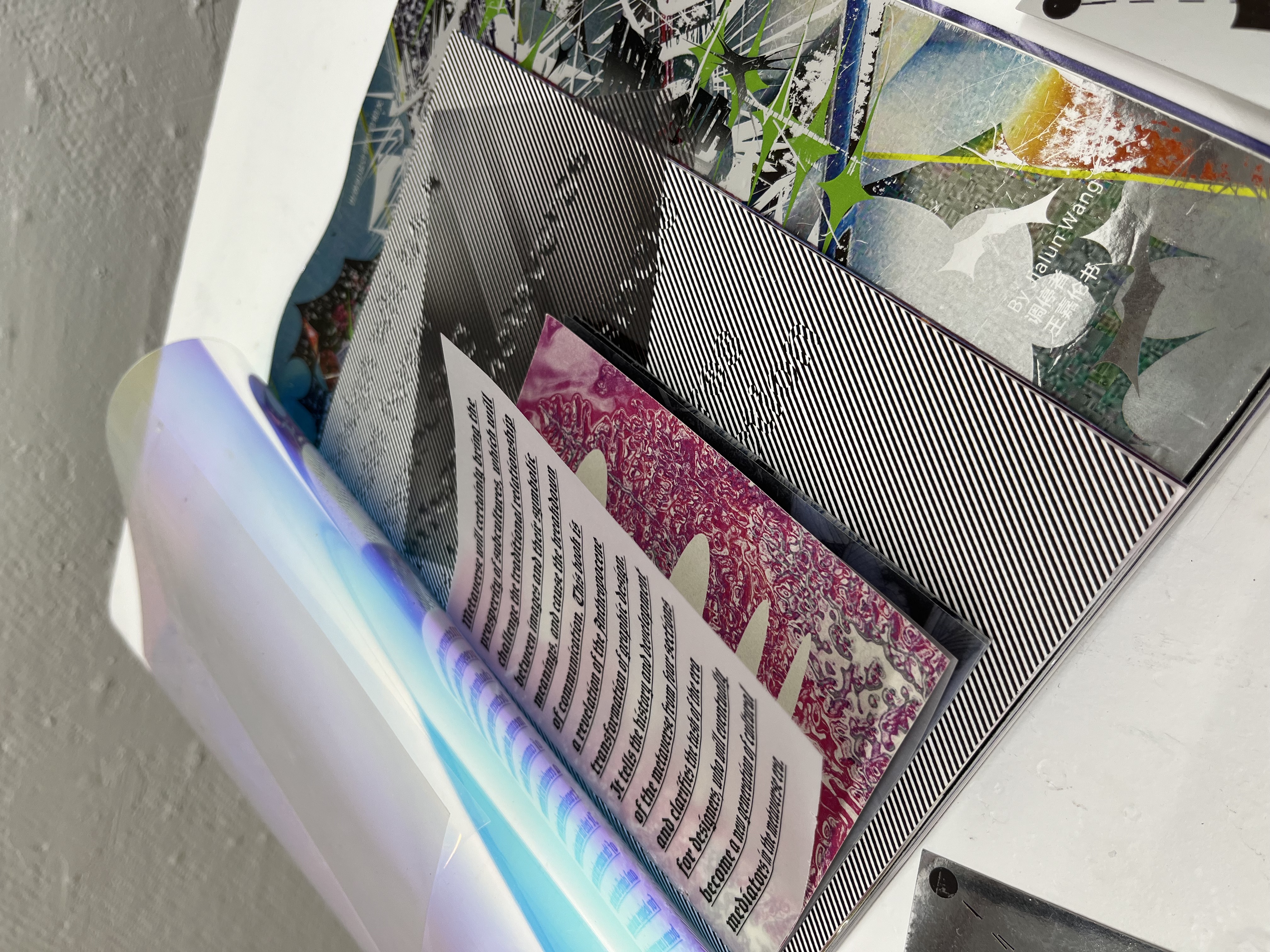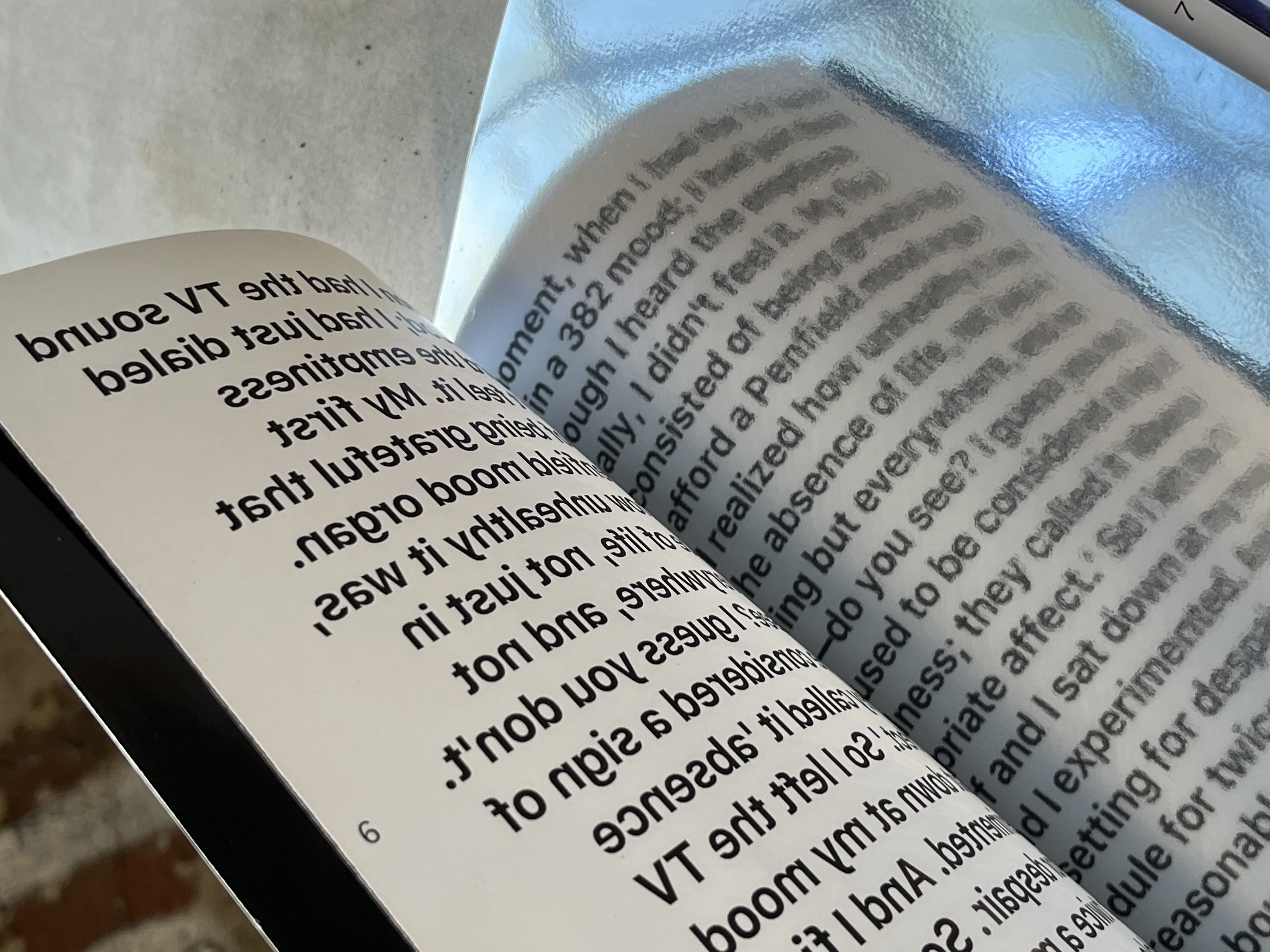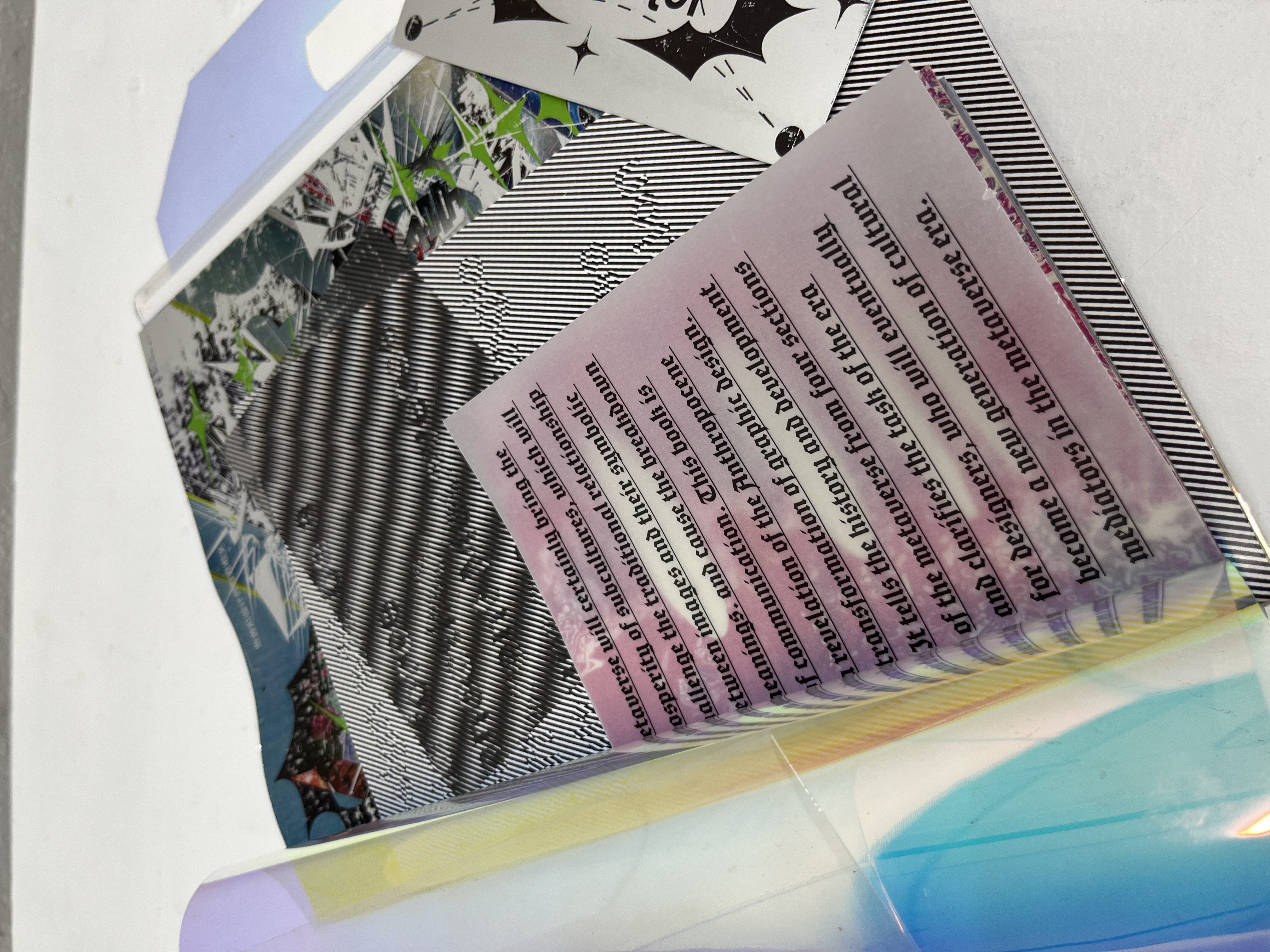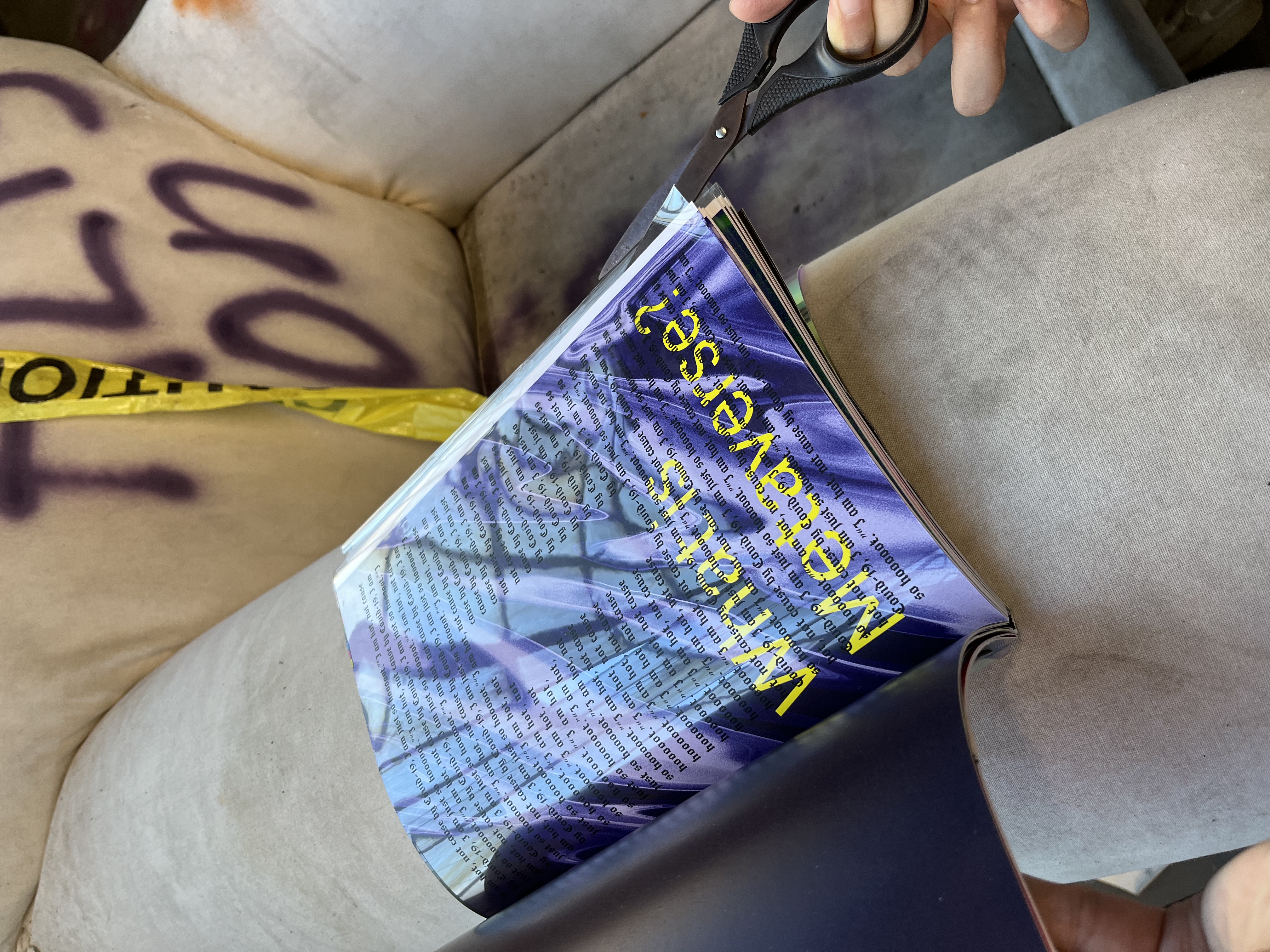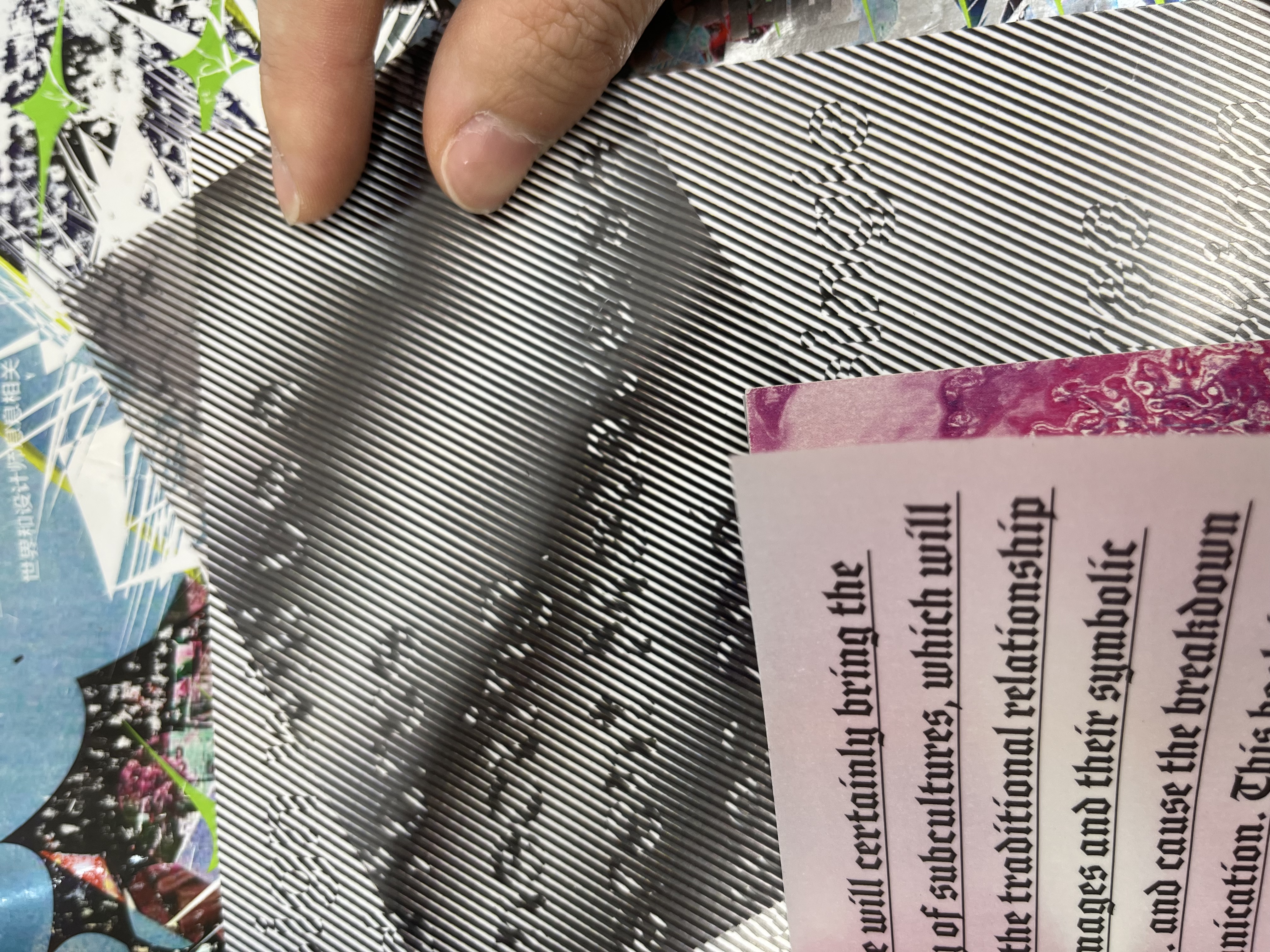 More Designs
Updated 2023